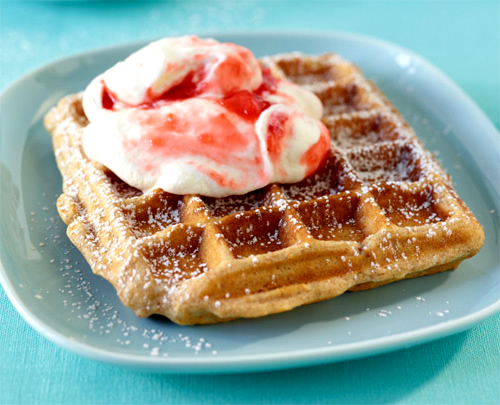 Ingredients:
*-*-*-*-*-*-*-*-*-*-*-*-*-*-*-*-*-*-*-*-*-*
1 package vanilla sugar
50g fresh fresh raspberries
5 tablespoons raspberry jam
1-2 tablespoons raspberry syrup
2 tablespoons confectioners' sugar
2/3 lb. (300g) Quark
3/4 cup ground almonds
4 oz. heavy cream
2 teaspoons baking powder
1/2 cup corn starch
2/3 cup flour
4 eggs
1/2 cup sugar
9 tablespoons unsalted butter
Cooking:
*-*-*-*-*-*-*-*-*-*-*-*-*-*-*-*-*-*-*-*-*-*
1. Melt the butter and mix with the sugar, vanilla sugar and eggs until fluffy. In a separate bowl, mix the flour, corn starch and baking powder.
2. Gradually add the dry ingredients and the cream to the mixture. Fold in the ground almonds.
3. Bake the waffles in a preheated waffle iron until golden brown.
4. For the cream combine the quark, confectioners' sugar, raspberry syrup and the jam until smooth.
5. Separate each waffle into five hearts.
6. Spread the cream on one of the waffles and place another one on top. Garnish with fresh raspberries.