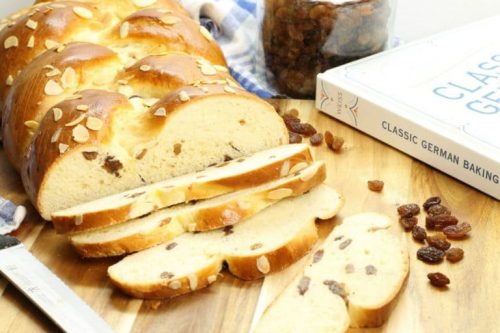 A deliciously soft and fluffy Raisin Bread (Rosinenbrot) – the perfect loaf of bread to serve for breakfast!
Ingredients:
4 cups all-purpose flour
1/4 cup sugar
3 tsp active dry yeast (or 2 tsp instant yeast)
1 tsp salt
1 cup milk – slightly warmed
5 Tbsp soft butter
1 egg
1/2 cup raisins
Topping (optional):
1 egg yolk
1 tsp milk
1/4 cup sliced almonds
Preparation:
Preheat your oven to 350 F (190 C) and line a sheet pan with parchment paper.
Warm the milk in a pot on the stove until lukewarm.
In a large bowl mix together the flour, sugar, and salt. Make a well in the middle and add the active dry yeast. If using instant yeast simply mix it into the flour and skip the next step.
Pour the warm milk into the well and dissolve the yeast.
Add the butter and egg to the liquid mixture and, using a wooden spoon, stir in the flour from all sides until you have created a ball of dough.
Sprinkle a little flour on the counter, and knead the ball of dough for at least 15 minutes until it is super smooth and supple. Form a round ball and put it back in the mixing bowl. Cover with a clean dishcloth and let it rise in a warm area for 1 hour or until double in size.
Flatten the dough on the counter and sprinkle the raisins on top. Fold over the dough and knead in the raisins.
This step is optional, you can skip it if you want to use a rectangular baking pan.
Cut the dough into 3 equal pieces and roll each piece into rolls 16 inches (40 cm) long. Braid the three strands of dough into one big braid. Tuck the ends of the loaf under to hide any loose sections.
Transfer the braided dough to the parchment lined sheet pan, cover and let the loaf rise for another 20 minutes.
Brush the loaf with the topping mixture of egg yolk and milk. Sprinkle the sliced almonds on top.
Bake the loaf for 20 to 30 minutes until it is nice and golden brown.
Let the Rosinenbrot cool on a wire rack before slicing.
Recipe and photo via https://goo.gl/v3VkgQ.