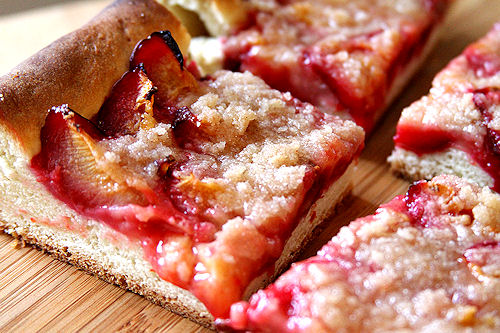 Ingredients:
*-*-*-*-*-*-*-*-*-*-*-*-*-*-*-*-*-*-*-*-*-*
1/2 cup butter, room temperature
1/2 cup sugar
2 eggs
1 cup flour
1 Tbsp baking powder
1/2 tsp salt
1/2 tsp almond extract
a large bag of purple Italian plums, cut in to wedges
1/2 cup sugar
1 tsp cinnamon
Cooking:
*-*-*-*-*-*-*-*-*-*-*-*-*-*-*-*-*-*-*-*-*-*
1. Mix butter and sugar. Add the eggs and mix again.
2. Separately, mix together the flour, baking powder, salt and almond extract.
3. Add the flour mixture to the butter mixture.
4. Prepared a pan with cooking spray and pour the thick batter in. Spread it out to make it even. I think you can really use any size pan, to be honest. The larger the pan, the thinner the cake will be. I prefer a thinner cake so I went with a larger pan. You do what you think will taste the best for you.
5. Slice the plums, removing the pit in the process.
6. This is where you can have a lot of fun and even get the kids involved! Layered the plum wedges on top of the batter in a pretty pattern. You can use whatever pattern you want, or no pattern at all.
7. Mix together the sugar and cinnamon and sprinkle it over the plums.
8. Bake the cake at 375 F (190 C) for 45 minutes and it's ready to eat!