February 24, 1557
Birth of Matthias, Holy Roman Emperor, in Vienna, Austria. Matthias was the Habsburg ruler of the empire at the time that the 30 Years' War started (1618).
February 24, 1622
Birth of Johann Clauberg in Solingen, Germany. Clauberg was a philosopher who became the leading German follower of Rene Descartes. He was a professor at the University of Duisburg. Noted works by Clauberg include Defensio Cartesiana (1652) and Ars Etymologica Teutonum e Philosophiae (1663). Clauberg died in Duisburg on January 31, 1665.

February 24, 1697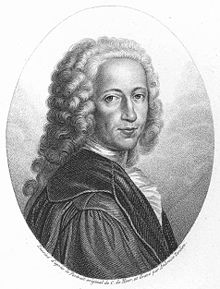 Birth of Siegfried Bernard Albinus (1697-1770) in Frankfurt an der Oder, Germany. An anatomist, Albinus was the first to understand the relationship of the circulatory systems of a mother and unborn child. Albinus is best known for his monumental Tabulae sceleti et musculorum corporis humani, which was first published in Leiden in 1747.
February 24, 1771
Birth of Johann Baptist Cramer in Mannheim, Germany. His family took him to England as an infant. Cramer became one of the leading pianists of his day. He founded the London music publishing company, Cramer and Company. Cramer died on April 16, 1858 in London.
February 24, 1784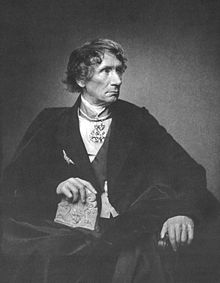 Birth of Leo von Klenze (1784-1864) in Bockenem, Germany. The architect, Klenze, worked primarily in Munich for Maximilian I and Ludwig I. He built the Glyptothek, the Propylaeon in Munich.
February 24, 1786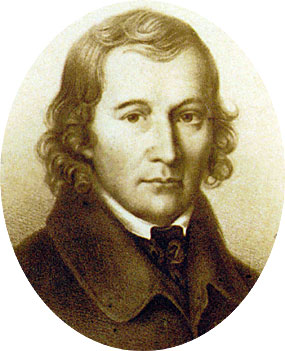 Birth of Wilhelm Grimm (1786-1859) in Hanau, Germany. Along with his brother, Jakob he is known most for the Grimms' fairy tales, published as Kinder- und Hausmärchen. (1812-1822). But the brothers did a huge amount of work which is equally important but less known. Between 1816-18 they published Deutsche Sagen, a collection of German legends. The most extensive work undertaken by the brothers was the complete German dictionary, Deutsches Wörterbuch. The work was so extensive that neither lived to see it completed. Scholars continued the work after the Grimms' deaths and finally finished it about a century after they had started it. Wilhelm Grimm also published a collection of the stories of the heroic ancients from the 6th to the 16th centuries, Die deutsche Heldensage.
February 24, 1809
Der 24. Februar is the title of a very popular novel by Zacharias Werner in which murder and fate center around a single knife. The novel was published in 1809.
February 24, 1809
Birth of Edwin Freiherr von Manteufel in Dresden, Germany. Manteufel was a general in the Prussian army. He served as aide-de-camp to Friedrich Wilhelm during the uprisings of 1848. In 1861 he was made chief of the Prussian military cabinet. He served with noted success in the Franco-Prussian war of 1870-71. From 1871-1873 he commanded the Prussian occupation forces in France. In addition to his military duties, he undertook a number of diplomatic missions.
February 24, 1841
Birth of Carl Graebe in Frankfurt am Main, Germany. A chemist, Graebe synthesized the dye, alizarin, from coal tar in 1868. His dye immediately replaced the natural orange-red dye in textiles. Graebe was a professor at the Universities of Königsberg and Geneva. He introduced the prefixes ortho- meta- and para- to designate isomers. Graebe died on January 19, 1927 in Frankfurt am Main.
February 24, 1867
Birth of Karl Schönherr in Axams, Austria. Schönherr was a physician in Vienna. He began writing poems and stories and began publishing them in 1895. His primary topics are Austrian village life and novels about physicians. Schönherr died on March 15, 1943 in Vienna.
February 24, 1899
Death of Emil Welti in Bern, Switzerland. Welti served as president of the Swiss Confederation six times and also was at various times the head of the Department of the Army, the Postal Department, the telegraph system, the railway system and the Justice Department.
February 24, 1926
Death of Johann Jakob Bausch in New York (born in Groß Suessin, Germany). Bausch Moved to Bern, Switzerland in 1848 and found work in an optical shop. In 1849 he immigrated to the United States. In 1853 he opened an optical shop in Rochester, New York. Most of the products he sold, he imported from Germany. In 1855 another immigrant from Germany, Henry Lomb joined the business. Together they built one of America's leading optical companies, Bausch and Lomb.
Back to Today in German History Calendar