July 25, 975
Birth of Dietmar in Hildesheim, Germany. The Saxon Dietmar was an important chronicler of his age and his works are important documentation to the period.
July 25, 1564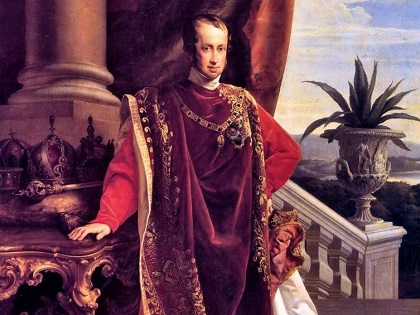 Death of Ferdinand I in Vienna, Austria. The Spanish-born Habsburg, Ferdinand became the Holy Roman Emperor, and the king of Bohemia and Hungary. In the "Peace of Augsburg" of 1555 he agreed to the right of regional princes to determine the religion of their own territories. The key events during his reign were the contest with the Ottoman Empire, whose great advance into Central Europe began in the 1520s, and the Protestant Reformation, which resulted in several wars of religion.
Ferdinand's motto was Fiat iustitia, et pereat mundus: "Let justice be done, though the world perish".
July 25, 1830
Birth of Johann (John) Jakob Bausch in Groß Suessin, Germany. Bausch Moved to Bern, Switzerland in 1848 and found work in an optical shop. In 1849 he immigrated to the United States. In 1853 he opened an optical shop in Rochester, New York. Most of the products he sold, he imported from Germany. In 1855 another immigrant from Germany, Henry Lomb, joined the business. Together they built one of America's leading optical companies, Bausch and Lomb. Bausch died in 1926.
July 25, 1934
Assassination of Engelbert Dollfuss, the Austrian Chancellor by members of the Austrian Nazi Party. Dollfuss became chancellor of Austria in 1932. He worked closely with the Italian, Mussolini, and worked to restructure Austria after the Fascist model. He abolished parliament in 1933. With a new constitution in 1934 he achieved dictatorial power. He was assassinated by members of a Nazi insurgency in 1934.
July 25, 1950
Walter Ulbricht becomes the General Secretary of the Central Committee of the Socialist Unity Party of East Germany. He played a leading role in the creation of the Weimar-era Communist Party of Germany (KPD) and later (spending the years of Nazi rule in exile in the Soviet Union) in the early development and establishment of East Germany (the German Democratic Republic). He was first secretary of the Socialist Unity Party, and as such the de facto leader of East Germany, from 1950 to 1971. From President Wilhelm Pieck's death in 1960 he was the East German head of state until his own death in 1973.
July 25, 2002
Kardinal Joachim Degenhardt, Archbishop of Paderborn, dies at age 76.