October 6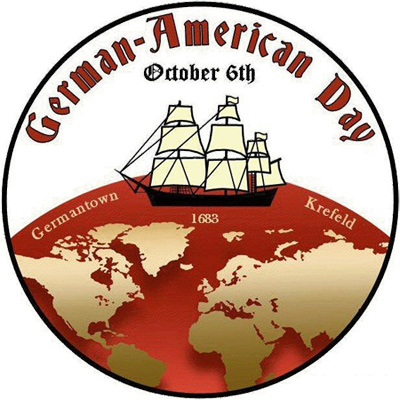 German/American Day in the U.S.A. – the holiday that celebrates German American heritage, commemorates the date in 1683 when 13 German families from Krefeld near the Rhine landed in Philadelphia. These families subsequently founded Germantown, Pennsylvania, the first German settlement in the original thirteen American colonies. Originally celebrated in the nineteenth century, German-American Day died out in World War I as a result of the anti-German sentiment that prevailed at the time. The holiday was revived in 1983.
October 6, 1090
Death of St. Adalbero von Würzburg (ca. 1010 – 1090) St. Adalbero was born in Austria in the palace of Lambach (near Linz). He studied in Würzburg and in 1045 became the Bishop of Würzburg. He was a supporter of the Cluny reforms. During the investiture controversies he supported Pope Gregory VII against Heinrich IV. In the process he lost his bishopric. He was canonized by Pope Leo XIII in 1883.
October 6, 1459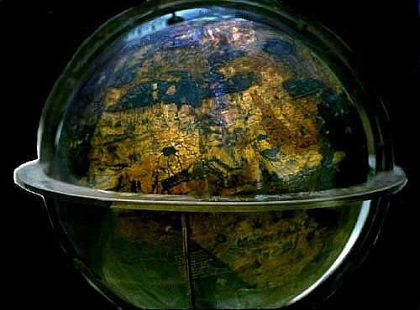 You can spin Martin's globe as much as you like but you will never find America.
Birth of Martin Behaim in Nürnberg, Germany. His globe of 1492 is the oldest globe in existence. It is located at the German National Museum in Nürnberg.
October 6, 1520
Martin Luther publishes an essay on the "Babylonian Captivity of the Church" refuting the Church's sacramental system.
October 6, 1683
The first German immigrants land in America. The 13 families, 35 persons, Mennonites from Krefeld, land in Philadelphia.
October 6, 1831
Birth of Richard Dedekind in Braunschweig, Germany. Dedekind was a mathematician who did important work in abstract algebra (particularly ring theory), algebraic number theory and the foundations of the real numbers.
October 6, 1847
Birth of Adolf von Hildebrand in Marburg, Germany. He was the sculptor who built the Wittelsbach Fountain at Maximilianplatz in Munich.
October 6, 1848
There is an attempted liberal revolution in Vienna. The movement is finally crushed by the new chancellor, Felix, Fürst zu Schwarzenberg.
October 6, 1855
Death of August Leopold Crelle in Berlin, Germany. Crelle was a mathematician who founded the prestigious journal, Crelle's Journal (original name: Journal für die reine und angewandte Mathematik) in 1826.
October 6, 1866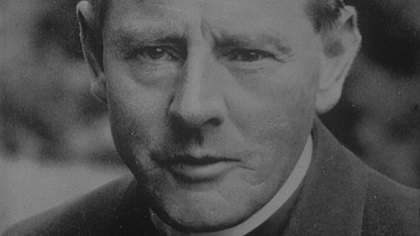 Birth of the Swiss writer, Heinrich Federer, in Brienz, Switzerland. A devout Catholic, Federer was inspired by St. Francis of Assisi and brought that spirit into his writing. Works by Federer include Der heilige Franz von Assisi, Berge und Menschen, and Papst und Kaiser im Dorf.
October 6, 1869
Death of Moritz Schiff in Geneva, Switzerland. Schiff earned his M.D. at the University of Göttingen and became a professor of comparative anatomy at the University of Bern. Schiff's first major contribution to medical science was to prove that the thyroid gland is essential to life and then to discover that the thyroid gland could be replaced by thyroid grafts or injections of thyroid extracts. He was the first to note the influence of the cerebral cortex on blood circulation, the role of the vagus nerve in heart function and the return to the liver of bile salts from the intestine (Schiff's biliary cycle).
October 6, 1908
Austria annexes Bosnia and Herzegovina.
October 6, 1918
German chancellor Max von Baden sends a message to President Wilson requesting an armistice on the basis of Wilson's 14 points. By October 23 Wilson has agreed but only on the condition that the Allies would not negotiate with the Hindenburg/Ludendorff de facto military dictatorship. (Ludendorff resigns on October 26 to make negotiation possible.)
October 6, 1939
Adolf Hitler in a speech says he has no desire for war with either France or Britain. (At that time, he had no such desire, but it was clear that the French and British treaty with Poland required them to intervene in case of an attack on Poland.)
October 6, 1951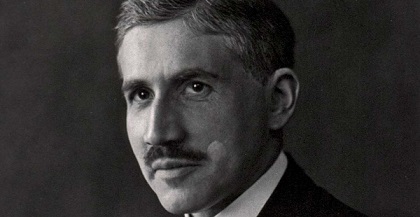 Death of Otto Meyerhof in Philadelphia, PA (born in Hannover, Germany). Mayerhof was a biochemist who won the Nobel Prize for Physiology or Medicine in 1992 for his work on the chemical reactions of metabolism in muscles. He examined the glycogen-lactic acid cycle. Meyerhof earned his doctorate in medicine at the University of Heidelberg. He taught at the University of Kiel.
October 6, 1976
President Ford of the U.S.A. states during a debate that there will never be Soviet domination of Eastern Europe as long as he is president. (In reality Eastern Europe had been dominated by the Soviet Union since 1945.)