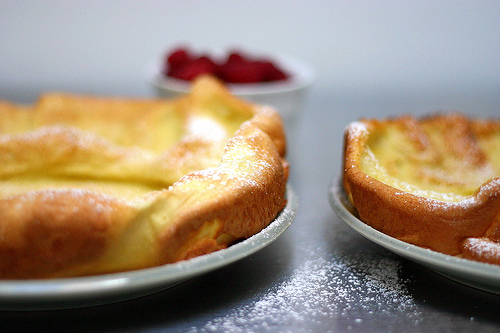 Ingredients:
*-*-*-*-*-*-*-*-*-*-*-*-*-*-*-*-*-*-*-*-*-*
4 eggs
1 tablespoon sugar
1/2 teaspoon salt
2/3 cup flour, sifted
2/3 cup milk
2 tablespoons soft butter
Method:
*-*-*-*-*-*-*-*-*-*-*-*-*-*-*-*-*-*-*-*-*-*
Heat oven to 400°F  (200°C).
Butter two 9-inch cake pans well.
Beat eggs until light yellow in color. Add remaining ingredients, mix thoroughly.
Pour into prepared pans and bake 20 minutes; then reduce heat to 350°F  (175°C) and bake 10 minutes.
Slide onto hot plates. Serve with lemon slices, powdered sugar and butter – or raspberry syrup, maple syrup, fresh berries, whatever you like.