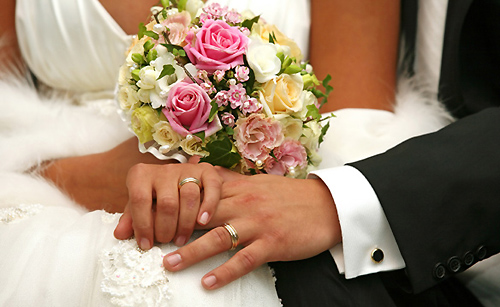 If a couple plans to get married in Germany, it is recommended to start with the legal formalities as soon as possible (for example, in some regions – 6 months early), because a number of legal issues, such as previous marriages, can create a hassle. There will be local requirements depending on where in Germany you are getting married.
Some important issues:
to check local embassy and the local magistrate's office (Standesamt);
to apply for what documentation is needed (usually: a birth certificate (with the stamp), a passport stamped with proof of residence (Aufenthaltserlaubnis);
a health certificate;
a statement of parental consent (if a party is under 18);
a certified translation (Apostille) of all the documentation if it is not in German provided by the Deputy Secretary of State;
a single certificate (Ledigkeitbescheinigung), proving that there are no impediments to the marriage as both bride and groom are single;
in case of previous marriages to present either a death certificate for the former spouse or proof that the marriage was permanently dissolved by divorce;

Important to note:
A simple divorce decree from an American or British court is usually not enough. A statement to this effect from the court that granted the divorce is needed.
If one will be having a church ceremony after the official wedding, baptism certificates and a Certificate of Dismission are needed; it allows to get married outside of one's county if one is Catholic.
For same sex marriages, this is allowed in Germany. In Germany, gay couples have pretty much the same rights as heterosexual couples do. Cousin marriages are also allowed in Germany.
It can be difficult for non-German citizens to get married in Germany. The best way to go about getting married in Germany is to have a professional wedding agency arrange it for you. Wedding agencies are aware of all the requirements and can take a load of added stress off of you.
In Germany, one can't just get married in a church and be legally married. Everybody getting married must first appear at a Standesamt for a civil ceremony. The great majority of couples go no further. Once the marriage is legal, then one may have the ceremony in a church. Quite a few Muslims, Jews and atheists get married at the registrar's office to avoid the Christian traditional procedure.
The cost of the Standesamt wedding ranges from €30 to €75 and the ceremony usually is conducted in German, so one may need a presence of an interpreter. Though, the cost of getting married in Germany depends on the financial status of the couple.
It should be noted, that the wedding rooms are usually nice, they are usually located in one of the community's finer buildings. The right atmosphere is created with flowers, subdued lighting, oil paintings and deep carpeting. Germany has many magnificent cathedrals, palaces and castles that offer wedding arrangements. In large cities there are some special agencies, renting out the clothing necessary for the wedding and all the attributes needed. Wedding coaches, drawn by four white horses, are also available as well as antique cars, limousines and the like. There are services dealing with the organization of the wedding holiday, taking into consideration one's will and possibilities.