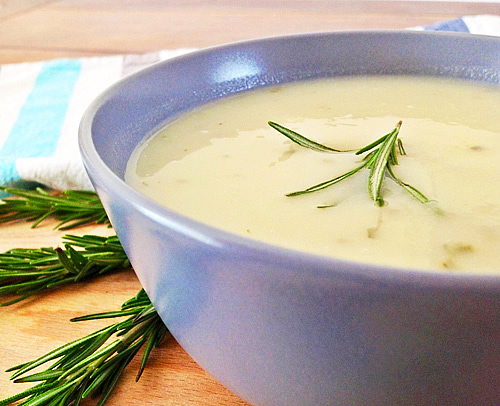 Ingredients:
*-*-*-*-*-*-*-*-*-*-*-*-*-*-*-*-*-*-*-*-*-*
1/2 cup chopped onion (1 small)
2 tablespoons butter
1 1/2 -2 lbs white asparagus, peeled and cut into 2 inch pieces, heads reserved
6 cups broth, either chicken or vegetable
1/2 cup half and half cream
salt and fresh ground pepper, to taste
dry white wine, to taste
parsley or rosemary, for garnish
Method:
*-*-*-*-*-*-*-*-*-*-*-*-*-*-*-*-*-*-*-*-*-*
Make sure you peel white asparagus before you chop it into small pieces.
Sauté the onion in the butter until soft in the bottom of a 4 quart saucepan. Add the pieces of asparagus (minus the heads) and steam for 5 minutes. Add the broth and boil gently for about 30 minutes, or until the asparagus is very soft.
Purée the soup in batches in the blender (place a towel over the lid and hold down the lid so the hot soup does not splatter) or with a hand blender and return to pan.
Bring to a simmer and add the reserved asparagus heads. Cook at least 5 minutes, or until they are fork-tender. Turn down the heat and add the cream. Do not boil further.
Taste and add salt and freshly ground pepper as needed. You may also want to add a few spoonfuls of white wine, if you think the soup needs acidity. Garnish with your favorite greens.