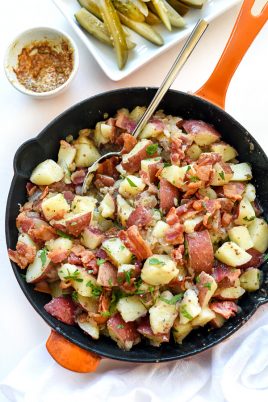 Another recipe of the famous potato salad – because you can't get enough of it! This one's hot – literally!
Ingredients:
1.5 kg medium-size red potatoes, quartered
Kosher salt
400 g bacon, cut into 1 cm pieces
1 large yellow onion, minced
1 cup white vinegar
3 tablespoons coarse or grainy mustard
2 tablespoons sugar
½ cup parsley, chopped
Freshly ground black pepper
Preparation:
Cook the potatoes over high heat in a large saucepan until water comes to a boil. Season generously with about 1 tablespoon of kosher salt. Reduce the heat to medium so that the water is still gently bubbling and cook the potatoes for about 10 minutes or until they are easily pierced with a fork and the skins are barely starting to pull away from the cut edges of the potatoes.
Drain the potatoes and cool until they can be handled. Dice the potatoes and add back to the pan you cooked them in to keep warm.
Meanwhile, cook the sliced bacon in a large skillet over medium heat until browned, about 5-6 minutes stirring occasionally.
Transfer the bacon to a plate topped with paper towels to drain.
Add the onion to the bacon grease and cook for about 3-4 minutes or until the onion is transparent but not brown.
Stir in 1 cup water, the white vinegar, mustard and sugar and cook for about 5-7 minutes or until the dressing has reduced to about 2 cups.
Add the potatoes back to the pan with the dressing and toss to coat.
Add the chopped bacon and parsley. Season with kosher salt and freshly ground black pepper to taste. Serve warm.