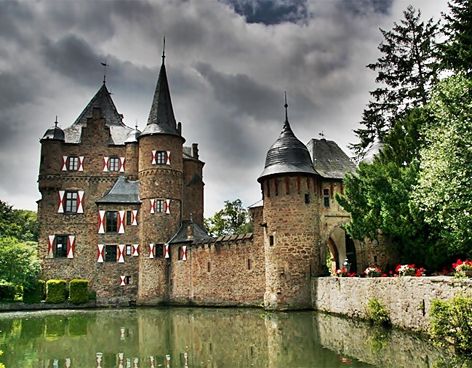 Satzvey Castle is one of the best-kept moated castles in Rhineland, whose origins go back to the 12th century. Satzvey Castle is well-known today for its diverse events, showing history and tradition in an interesting and fun way.
Burg Satzvey is a medieval water castle, originally from the 12th century, and is located on the north-eastern edge of the Eifel in Mechernich in North Rhine-Westphalia.
The castle's lineage has spread over many ancient royal families. It began with the Benedictines, until the Archbishop of Cologne gave the lordship to Otto von Vey in 1368. Although the castle has retained the name Vey (partially), the family's ownership of Burg Satzvey was far less enduring.
By 1391, the last of the line had died out and it passed on to Heinrich von Krauthausen. Von Krauthausen was the son-in-law of Otto von Vey, and was chiefly responsible for the construction of the Satzvey Castle we know today.
But even von Krauthausen didn't maintain power for very long time either. After a series of famous noble families held control, by the 16th century, a man named Wilhelm Spieß von Büllesheim usurped Satzvey with the blessing of the Cologne Archbishop.
In the 1700s, Satzvey was once again under new management, and this time would be a bit more lasting. The castle was sold to Karl Otto von Gymnich.
Satzvey Castle remains in the Gymnich family today, and the Gymnichs have been particularly active in preserving the castle's history with festivals and other events.