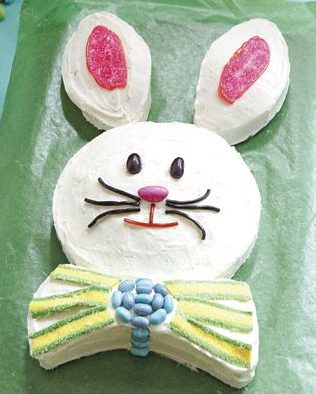 Ingredients:
2 cups all-purpose flour
1/2 cup shortening
1 1/2 cup sugar
1 cup milk
3 1/2 tsp baking powder
1 1/4 tsp vanilla
1 tsp salt
3 eggs
Frosting:
100 g cream cheese, softened
a pinch of salt
1 tbsp milk
2 1/2 cups confectioners' sugar
1 tsp vanilla
Preparation:
Preheat the oven to 180 degrees C.
Grease and flour the cake pans (rub bottom of pan with butter or shortening, then sprinkle flour in the pan, tap the pan until flour spreads and covers the bottom).
Sift the flour, sugar, baking powder, and salt into the electric mixer bowl.
Add the shortening, milk, vanilla, and eggs.
Mix on low speed for one minute. Scrape the sides of the bowl, then turn mixer to high speed. Beat for 3 minutes.
Pour into pans and bake for 30 to 35 minutes, or until a wooden pick inserted in the cake center comes out clean (not sticky).
Cool in pans for 10 minutes, then turn cake layers onto a wire rack (you might need help with this step).
Make frosting: place the cream cheese, milk, vanilla, and salt in the electric mixer bowl. Mix on medium speed until well blended.
Gradually add sugar, beating at medium to high speed until the frosting is smooth and will spread easily. If necessary, add more milk.
Cut the cooled cake and arrange as shown in the photo. One layer is left intact, and the other is cut to form the bunny's ears and bow tie. Spread the frosting between the head, ear, and bow tie pieces, then over top and sides. Add jelly beans for the bunny's eyes, strips of licorice for whiskers. You could also cover the rabbit with coconut for a very special Easter dessert!