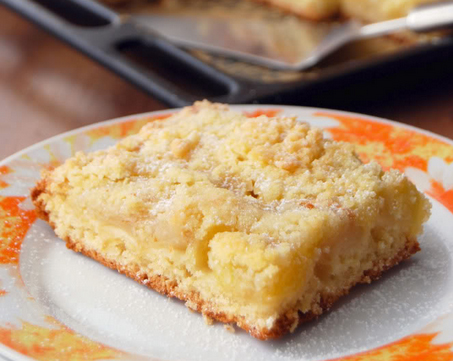 There's something uniquely comforting about a slice of German Apple Crumb Cake (Apfel-Streuselkuchen) that appeals to dessert lovers worldwide. This traditional German dessert, known for its juicy apple filling, rich buttery crust, and crumbly topping, offers a harmonious blend of textures and flavors. In this comprehensive guide, we'll delve into the art of making Apfel-Streuselkuchen, including its history, cultural significance, and step-by-step recipe. Whether you're a seasoned baker or a curious culinary enthusiast, this delicious dessert is a must-try.
Apfel-Streuselkuchen has a storied history in German cuisine, dating back to the Middle Ages. Originating from the southern regions of Germany, it has become a staple in bakeries and households across the country. This cake is particularly popular during autumn when apples are in peak season. It's a testament to the German love for Kaffee und Kuchen (coffee and cake), a traditional afternoon break that involves enjoying a slice of cake with a cup of coffee.
German Apple Crumb Cake (Apfel-Streuselkuchen) is more than just a dessert; it's a cultural emblem that brings people together, especially during the cozy autumn months. Its simplicity, combined with the rich flavors and textures, makes it a beloved dessert in German cuisine and beyond. Whether enjoyed during a traditional Kaffee und Kuchen or as a comforting treat, this cake is sure to satisfy any sweet tooth.
Ingredients:
For the dough:
400 g flour
30g fresh yeast or 2 teaspoons dry yeast
150ml milk, lukewarm
80g sugar
1 egg, large
100g butter or margarine
pinch of salt
For the topping:
1.2 kg apples, about 5-6, each cut into 8 pieces
For the streusel:
175 g butter
250 g four
200 g sugar
1 packet vanilla sugar
Method:
Prepare the dough by dissolving the yeast and a pinch of sugar in the milk. Keep aside till you start seeing bubbles and froth on top of the solution. Combine the flour, sugar, eggs, butter, frothed yeast and a pinch of salt and knead with the kneading hooks of your machine or simply with your hands. The dough should be smooth and silky. If kneading by hand, take your time and knead well till smooth. Cover with a damp cloth and allow to rise in a warm dry place till it doubles in volume – approx. 1 hour.
For the streusel, melt the butter. In a bowl, combine the flour, sugar and vanilla sugar. Add the hot melted butter and mix with the flour until you form pea-size crumbs.
Preheat the oven to 200 degrees C, and prepare a baking tray by lining it with some baking paper.
Once the dough has risen, spread the dough out to the edges of the baking tray (39 cm X 32 cm) using floured fingers. Spread the apple pieces over the dough without leaving any gaps in between. Now spread the crumble topping and let the dough rest for another 10-15 minutes.
Bake in a preheated 200 degrees C oven for 30 minutes. Remove and let cool.
Enjoy your baking journey with German Apple Crumb Cake and immerse yourself in a world of delightful flavors and rich culinary heritage. Happy baking!