German Culture
Germany, a country in the heart of Europe, is renowned for its rich cultural heritage, shaped by centuries of history, diverse influences, and continuous innovation. This website covers almost all aspects of German culture, offering a glimpse into what makes it both unique and universally appealing.
German culture has been shaped by major historical events, including the Holy Roman Empire, the Reformation, the Enlightenment, industrialization, two World Wars, and reunification after the fall of the Berlin Wall in 1989. Each era left an indelible mark on German society, influencing its traditions, values, and global perception.
German, Germany's official language, is known for its precision and depth. The country has a rich literary tradition, with figures like Johann Wolfgang von Goethe, Friedrich Schiller, and more contemporary authors like Günter Grass and Herta Müller. The Brothers Grimm's fairy tales have captivated children worldwide, while their work in linguistics has had a lasting impact on the study of Germanic languages.
Germany's contribution to the arts is monumental. In classical music, composers like Johann Sebastian Bach, Ludwig van Beethoven, and Richard Wagner have left a legacy that defines the genre. In visual arts, the German Renaissance, and later movements like Expressionism and Bauhaus, have influenced art globally.
From the Romanesque and Gothic churches to modernist Bauhaus buildings, German architecture displays a range of styles. The Neuschwanstein Castle in Bavaria is a prime example of 19th-century Romanticism, while the Berlin skyline showcases cutting-edge contemporary architecture.
German culture is rich in traditions and customs, many of which are celebrated through various festivals and events.
Oktoberfest in Munich is world-famous, drawing visitors from across the globe to celebrate Bavarian culture, beer, and food in a festive atmosphere. Traditional clothing like Lederhosen and Dirndl are often worn, showcasing regional folk costumes.
Germany's Christmas markets (Weihnachtsmärkte) are magical, with their origins dating back to the Middle Ages. These markets, found in nearly every town, are filled with festive decorations, traditional crafts, and culinary delights like Glühwein and Lebkuchen.
The Carnival season, particularly strong in the Rhineland region, features parades, costumes, and balls. It's a time when traditional roles are reversed, and revelers enjoy a sense of freedom and humor.
Cuisine
German cuisine is as diverse as its regions, known for its hearty and robust flavors. Dishes like Bratwurst, Sauerkraut, and Pretzels are globally recognized. Each region has its specialties, like the seafood dishes of the North, the apple wine of Hessen, or the Spätzle of the South.
Germany is famous for its beer, with a brewing tradition rooted in the Reinheitsgebot (Beer Purity Law) of 1516. The country boasts a variety of beer styles, including Pilsner, Weizenbier, and Kölsch. Additionally, Germany is renowned for its Riesling wines, produced in picturesque vineyards along rivers like the Rhine and Mosel.
This comprehensive website of German culture highlights its depth and diversity, offering a window into a nation that seamlessly blends tradition with modernity. Whether you're a history buff, an art enthusiast, or a culinary explorer, Germany's rich cultural tapestry has something to intrigue and inspire everyone.
Featured Story
Schorle, a traditional beverage deeply rooted in German culture, combines the simplicity of … (More)
Featured Stories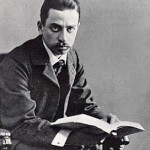 December 4, 1875 Birth of Rainer Maria Rilke in Prague, Austria-Hungary (now in the Czech Republic). Rilke is the most known and respected of the German-language poets of the 20th century. His life was a series of wanderings and experiments with new poetic structures. Rilke was widely recognized as one of the most lyrically intense […]
Read More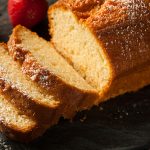 Sandkuchen is a classic German coffee cake. It is called Sandkuchen (literally "sand cake") because of its color that reminds of sand. This cake is very easy to make and great for baking beginners. … [Read More...]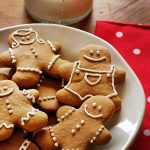 Gingerbread cookies are traditionally made in Germany for Christmas. Cook them anytime, and let some Christmas into the house right now! Difficulty … [Read More...]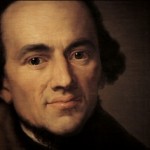 September 26, 1651 Birth of Francis Daniel Pastorius in Sommerhausen, Germany. He was a German lawyer who first traveled to America as the agent of a German Pietist organization interested in … [Read More...]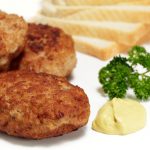 Fleischpflanzerl, also known as Buletten, or Frikadellen, are made of minced meat mixed with softened Brötchen (bread rolls) and eggs. Served hot or cold, with a pickle, with or without mustard, eaten … [Read More...]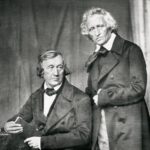 In the hushed stillness of a long-forgotten forest, where moss-laden trees whisper secrets of yore and the wind carries tales of times long passed, there lies a treasure most profound— the fairy tales … [Read More...]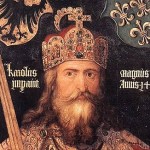 Charlemagne inherited the Frankish crown in 768. During his reign (768-814), he subdued Bavaria, conquered Lombardy and Saxony, and established his authority in central Italy. By the end of the eighth … [Read More...]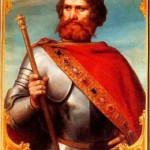 June 18, 1152 Friedrich I (Barbarossa) is crowned Emperor of the Holy Roman Empire by Pope Adrian IV in Rome. (Barbarossa is from Latin and means "red beard"). Before his imperial election, … [Read More...]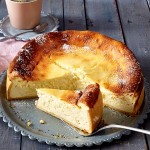 This German cheesecake is a bit lighter than its American cousin. The filling is made with low-fat quark instead of cream cheese and egg foam is folded into the filling to give it a slightly fluffy … [Read More...]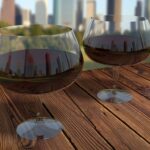 The world of wine is replete with stories of regions and grapes, each with its unique character and history. Among these, the Spätburgunder stands out as Germany's prestigious answer to the globally … [Read More...]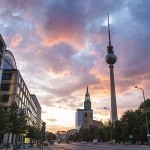 Radio and television are administered in a decentralized fashion as prescribed in the Basic Law. The intent behind the pattern of regional decentralization is to prevent the exploitation of the media … [Read More...]