Featured Story
The 2019–2020 coronavirus pandemic was confirmed to have spread to Germany on 27 January 2020, when … (More)
Welcome to German Culture!
This is a must-visit site for all German culture lovers. Get information about German traditions, history, education in Germany, German language, traveling to Germany, and lots of interesting facts about Germany. Here are some:
1. The population of Germany is approximately 82 million.
2. In the middle of September in Munich begins the world-famous Oktoberfest beer festival. Parades have begun brewing since 1810.
3. Germany is home to the world-famous composers of classical music. The most famous German composers were: Bach, Handel, Beethoven, Schumann, Mendelssohn, Brahms, Wagner and Richard Strauss.
4. The Germans occupy the third position of the world beer rating (after the Czechs and the Austrians): beer consumption per capita here is about 106 l of beer per year.
5. German athletes won a total of 1662 Olympic medals (as of 2012), i.e. more than any other country in the world except the USA.
6. Germany was the first country in the world to adopt daylight saving time. This happened at the height of the First World War (1916).
7. Almost 70% of German roads have no speed limit.
8. There are more than 300 varieties of baked bread in Germany.
9. German is the third most popular language in the world. It is official in 5 countries: Germany, Switzerland, Austria, Luxembourg and Liechtenstein.
10. Ulm Cathedral is the tallest church in the world. Its height is 161.53 m.
Read More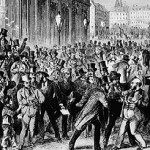 Germany experienced an economic boom immediately after unification. For the first time, the country was a single economic entity, and old impediments to internal trade were lifted. The federal … [Read More...]