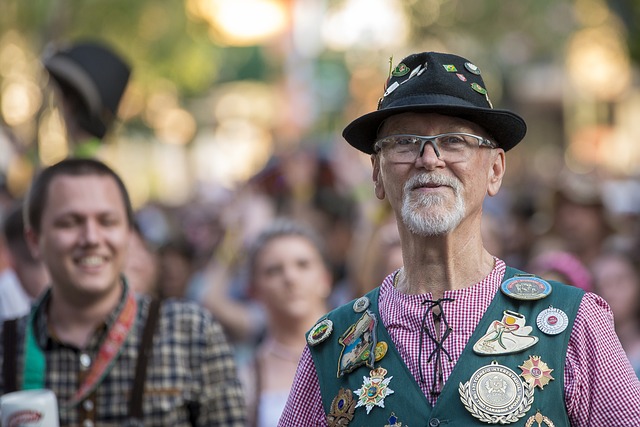 Explore the intricate world of German customs and traditions and discover a country brimming with cultural heritage. From vibrant festivals to time-honored customs, Germany offers a captivating blend of history, folklore, and celebration. In this article, we will explore some of the most cherished German traditions, shedding light on their significance and providing insights into the country's unique cultural identity.
Festivals Celebrating German Heritage
Oktoberfest: The world-renowned Oktoberfest takes center stage in Munich each year, captivating millions of visitors with its lively atmosphere, traditional music, and, of course, the famous Bavarian beer. This vibrant celebration of Bavarian culture dates back to 1810 and continues to be a symbol of German conviviality.
Karneval: Known as the "fifth season," Karneval is a carnival celebrated in various regions across Germany. From Cologne to Düsseldorf and Mainz, revelers don colorful costumes, join parades, and indulge in merriment before the Christian season of Lent. Karneval reflects Germany's love for pageantry, satire, and collective celebration.
Christmas Markets: During the Advent season, German cities and towns transform into enchanting wonderlands with their Christmas markets. These festive gatherings feature twinkling lights, aromatic food stalls, and charming handicrafts. Whether in Nuremberg, Dresden, or Cologne, the markets offer a delightful way to embrace the holiday spirit while exploring German traditions.
Time-Honored Customs and Traditions
St. Nicholas Day: Celebrated on December 6th, St. Nicholas Day honors the legendary figure of St. Nicholas, who brings small gifts and treats to children. In many German households, children leave a polished shoe outside their door the night before, eagerly awaiting the arrival of St. Nicholas.
Easter Traditions: Germany's Easter customs are as diverse as its regions. From decorating eggs and participating in egg hunts to lighting bonfires and reenacting passion plays, Easter is a time of religious observance and lively festivities. The Osterbrunnen (Easter fountains) in Franconia and Sorbian Easter processions in eastern Germany are particularly notable.
Krampusnacht: In southern Germany, Austria, and other Alpine regions, the night of December 5th sees the arrival of Krampus. This mythical creature, depicted as a horned monster, accompanies St. Nicholas to punish misbehaving children. Krampusnacht parades, with participants dressed as Krampus, create an exhilarating blend of fear and excitement.
Preserving Cultural Identity through Folklore
Brothers Grimm Fairy Tales: The Brothers Grimm, Jacob and Wilhelm, collected and recorded fairy tales that have become a cherished part of German folklore. Stories such as "Cinderella," "Snow White," and "Hansel and Gretel" have captivated audiences worldwide, highlighting Germany's contribution to the realm of storytelling.
Schuhplattler: This traditional Bavarian dance, originating in the Alpine regions, combines intricate footwork, hand-clapping, and thigh-slapping movements. Schuhplattler showcases the importance of dance as a means of cultural expression, preserving Germany's regional identities and traditional way of life.
Maypole Dancing: Maypole dancing is a popular tradition during the month of May, where locals gather around a tall decorated pole and perform rhythmic dances. This joyful celebration is symbolic of the arrival of spring and fosters a sense of community and togetherness.
Germany's traditions and customs reflect its deep-rooted cultural heritage. From the exuberance of Oktoberfest and Karneval to the charm of Christmas markets and the allure of folk traditions, these rituals provide a glimpse into Germany's rich tapestry of history, folklore, and celebration. As the country continues to embrace modernity, these time-honored traditions play a crucial role in preserving Germany's cultural identity for future generations to appreciate and cherish.
Aachen Cathedral
Aachen Cathedral is German historical heritage with collection of Christian treasures and Charlemagne grave.
Architecture in Germany
The German architecture was greatly influenced by the European art and architecture. However, it created nationally-valued masterpieces which have gained world fame and become national heritage units.
Bauhaus School
The Bauhaus style evolved from the Bauhaus school existing in 1919-1933 in Weimar and Dessau. It has defined the trends for German architecture of the 20th century.
Nazi and Bauhaus School
On April 11 1933, the Berlin police, acting on the orders of the new Nazi government finally closed the Bauhaus School.
Champagne, Bridal Soup and a Saw!
On their wedding day, German brides and grooms observe various civial and religious ceremonies. A bride should step on her new husband's foot, for example!
Circus Krone
Superlative world of the largest circus in Europe.
Complex World Of Germany: Cultural Heritage
Find your shortest way to German Culture.
Dating Etiquette in Germany
What's it like to be dating a German? Find out some do's and dont's that can help improve your romance.
Dating Germans: Exercising Your Sense of Humor
Laughter is known to be one of the best ways of making friends. No good dating is possible without it either.
East Germany. 'East?' Yes! 'Germany?' No?
Learn more about East Germany lands – former parts of former GDR. Explore brief Germany re-unification adn Berlin Wall fall story.
Easter Feast
Review of Easter rituals and traditions in Germany.
Frohe Weihnachten!
Plenty of Christmas celebration traditions from Germany – Christkindlesmarkt, Christmas tree, Advent – Christmas calendar, and some tasty recipes!
German Minnesingers
German minnesingers were great romantic performers of German original fables, folk songs and legends about love, dignity and patriotism of the German knights of medieval centuries.
German Mysteries – the Mirror of German Culture and History
Discover German mysterious places while traveling around Germany, learn German culture and history with German myths and true legends.
German Women and 3 K's
Women in Germany have always been subordinate to men and considered inferior, women's movement never brought any outstanding results. To crown it all, Kaiser Wilhelm defined a woman's role only that of a house-keeper and it became a cliché for patriarchic societies. From Middle Ages and up till now, women have been struggling for equality in rights.
German Wedding Tips
Getting married in accordance with German native rituals can be fun and pleasure. Here you'll find wedding traditions, tips, and tricks from Germany.
German Wedding Traditions
Find out all about German wedding traditions – everything that is done before and during the wedding.
Getting Married in Germany
Everything you need to know about getting married in Germany – all official rules and regulations.
Keeping Up Traditions in Germany
Follow typical German customs and rituals. German cultural traditions, wedding rituals, age-old German customs are all here.
Myths about Germans
Myths or truths? Take a look at this article and see what Germans think about other nations and what other nations think about them.
Myths about Germany
Speed limit, aggressiveness, long words and more – here is the list of the most popular myths about Germany.
Native German Clothing
German women used to wear Tracht and Dirndl as festive and work clothes in the 16th-19th centuries. Here is the comparative characteristic of the two styles.
Women in Nazi Germany
The Nazis had very firm ideas about the role of women in Germany. Hitler thought that the population of Germany had to increase for the country to become more powerful.
Women in Post-War Germany
Post-War life for German women was harsh. Trümmerfrau is the German-language name for women who, in the aftermath of World War II, helped clear and reconstruct the bombed cities of Germany and Austria
Real Germans' habits
What are Real Germans like? Set all stereotypes aside and read about Real Germans' habits, likes and dislikes, by guest author WEISSDORN.
Real Germans and Political Correctness
Read about Real Germans and Political Correctness, Multi-Culturalism, and Private and Group Discussions, by guest author WEISSDORN.
Real Germans and Religion
Here is Real Germans' attitude towards weddings, funerals and confirmation, by guest author WEISSDORN.
Prussia 2001
On January 18, 1701 Friedrich III Elector of Brandenburg crowned himself the King in Prussia. 300 years after this event, government heads of Berlin and Brandenburg officially opened the celebrations on the occasion in Berlin that will last for the whole year.
Schuhplattler Dance
Discover the energetic joy of Schuhplattler dance, a traditional Bavarian folk dance that beautifully captures the region's rich culture.
Wedding Traditions in Germany
Find out all about German wedding traditions – everything that is done before and during the wedding.