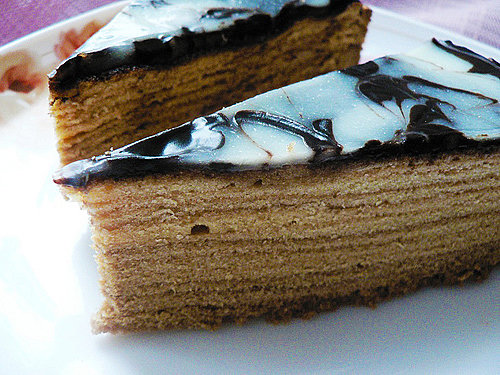 Baumkuchen is a German variety of spit cake. The origins of Baumkuchen and where it was first baked are disputed. One theory is that Baumkuchen was invented in the German town of Salzwedel, a story the town itself popularizes, and has been made there since at least the 19th century.
Ingredients:
7/8 cup unsalted butter, softened
1 cup sifted confectioners' sugar
7/8 cup cornstarch
2 tbsp rum
150 g almond paste
1 1/2 teaspoons vanilla extract
1 pinch salt
2 egg yolks
6 egg whites
3/4 cup white sugar
3/4 cup all-purpose flour
1/2 cup apricot jam, melted
9 (1 ounce) squares semisweet chocolate (optional)
2 1/2 teaspoons vegetable oil (optional)
Preparation:
1. Whip butter and sugar well until creamy.
2. Gradually add egg yolks and the remaining ingredients to the butter-sugar mixture until a light, foamy batter forms.
3. Beat egg whites until very stiff and stir gently into the batter.
4. Pour about 2 tablespoons batter (a thin covering) into a 8-1/2″ springform pan greased with butter.
5. On the uppermost oven rack, bake (or broil) in a preheated oven at 450° F (230° C) for 2 minutes or until golden brown. Watch carefully, this browning can take place very quickly.
6. Repeat until all the batter is gone — you should have about 14 to 16 layers.
7. When the cake is done, let it stand a few minutes before running a sharp knife along the sides of the pan. Remove the cake from the pan and glaze with melted apricot jam.
8. Once the jam is set, you can add an additional glaze of thinned almond paste or immediately finish the cake with a thin icing made from powered sugar or your favorite chocolate, melted with vegetable oil.