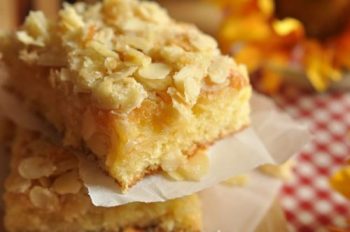 The butter cake recipe, aka Butterkuchen or Zuckerkuchen, is a traditional German cake often served for afternoon coffee. Popular when covered with butter, almonds, and sugar. It can also be topped with streusel (see recipe below).
Ingredients:
Yeast Dough
1 package (1 Tbsp) active dry yeast
¼ cup lukewarm water
1 tsp sugar
1 cup milk (lukewarm)
½ cup oil
1 egg
½ cup sugar
about 4 to 4½ cups all-purpose flour
½ cup milk or cream
Topping
⅔ cup sugar
¾ cup chopped almonds
⅓ cup cold butter
Preparation:
In a large bowl, mix yeast, water, and 1 tsp sugar. Let stand for about 5 – 10 minutes. This should be a little foamy.
Mix in 1 cup milk, oil, egg, and ½ cup sugar. Beat in 2 cups flour and mix well. Let stand 10 minutes.
Add more flour until a soft dough results. Remove from bowl and knead until smooth and elastic, adding flour ONLY if necessary if it is too sticky.
Put dough into a greased bowl. Cover and put in a draft-free warm place for about 30 – 60 minutes, until it has doubled in size.
Grease a 35 cm x 24 cm pan. Roll out dough to fit the pan and place it into it.
Make small hollows in the surface of the dough with your fingers.
Brush dough with ½ cup milk or cream.
Cut butter into small pieces and place in hollows.
Sprinkle ⅔ cup sugar and nuts over the dough.
Cover and let stand in a warm draft-free place for about 30 minutes.
Preheat oven to 200° C. Bake for 20 to 25 minutes until golden brown.
Let cool slightly and cut into squares.
Hint:
You can make a streusel topping by mixing together 2 cups all-purpose flour, 1 cup sugar, and 1 cup butter into a crumbly mixture. Spread on top of dough instead of sprinkling the sugar and nuts.