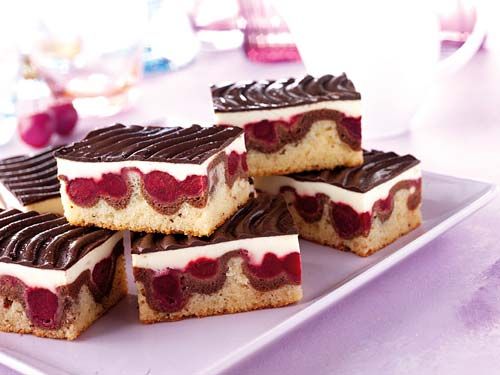 Donauwelle Kuchen (Danube Wave Cake) is an incredible dessert with layers of vanilla and chocolate cake, cherries, German buttercream, and ganache. After the cake is baked and cooled off a chocolate glaze is applied to the top of the cake and waves are made using a fork. When the cake is cut in squares it looks a little like the waves of the Danube river from the side. The Donauwelle cake looks very elegant and tastes great with the different flavors.
Ingredients:
For the cake:
2

cans pitted sour cherries

400 ml each, drained

1 1/4

cups

unsalted butter

at room temperature

1

cup

sugar

4

large eggs

at room temperature

1

teaspoon

vanilla extract

3 3/4

cups

all-purpose flour

3

teaspoons

baking powder

3 1/2

tablespoons

cocoa powder

sifted

1

tablespoon

whole milk
For the buttercream layer:
1/4

cup

cornstarch

1/2

cup

sugar

4

egg yolks

1/4

teaspoon

salt

2 1/4

cups

whole milk

vanilla

1

cup

unsalted butter
For the chocolate ganache topping:
8

ounces

bittersweet chocolate

8

ounces

heavy cream
Preparation:
For the cake:
1. Preheat oven to 185°C. Grease a 25 cm x  30 cm baking pan. Spread drained cherries out on 3 layers of paper towels to absorb more liquid.
2. Beat butter in a large bowl using an electric mixer until smooth. Gradually add sugar and beat until light and fluffy. Add eggs and vanilla, one at a time, beating well after each addition.
3. Whisk together flour and baking powder. Add to butter mixture in two additions, beating on medium speed, until just combined. Spread 2/3 of the batter into prepared pan. Add cocoa powder and milk to remaining 1/3 of the batter. Mix until just combined. Spread evenly over light-colored batter in the pan.
4. Spread cherries over batter. Press cherries lightly into batter with a spoon or spatula. Bake in the bottom third of oven for about 35 minutes, or until a toothpick or cake tester inserted in the center comes out clean. Cool cake completely in the pan on a wire rack.
For the buttercream layer:
1. Whisk together cornstarch, sugar, egg yolks, salt, vanilla and 1/4 cup milk in a medium bowl. Bring the remaining 2 cups milk to a low boil in a medium saucepan. Remove from heat.
2. Add 1/2 of the heated milk slowly to egg yolk mixture, on ladle at time, and whisking while adding (to temper the mixture and not cook the egg yolks). Add tempered egg mixture slowly back to the saucepan, whisking while adding. Bring mixture to a slow boil over medium heat, stirring constantly. When mixture begins to thicken, switch to whisking until mixture comes to a simmer. It will be very thick.
3. Transfer mixture to a bowl and place plastic wrap directly on the surface to prevent a skin from forming on top. This is similar to a thick pudding at this point. Cool pudding to room temperature. Use an instant-read thermometer to check temperature and do not proceed to the next step until it is at room temperature. If pudding is too warm it will melt the butter in the next step.
4. Beat butter until smooth. Add cooled pudding, about 2 tablespoons at a time, to butter and mixing well after each addition. Spread on top of cooled cake. Place plastic wrap directly on top. Chill cake for at least 1 hour or better yet overnight.
For the chocolate ganache topping:
1. Use a large knife to chop chocolate into very small pieces. The thinner the pieces (almost like shaving), the better. Place chocolate in a medium bowl.
2. Bring cream just to a low boil over medium-high heat. Pour heated cream over chocolate. Let sit for 5 minutes. Gently stir until combined. You do not want to incorporate air or bubbles into the mixture so stir gently and slowly.
3. Remove plastic wrap from top of cake. Pour ganache over cake. Allow to cool for a few minutes.
Drag a pastry comb or a fork back and over ganache to make a wave pattern. Keep cake covered and chilled when not serving.