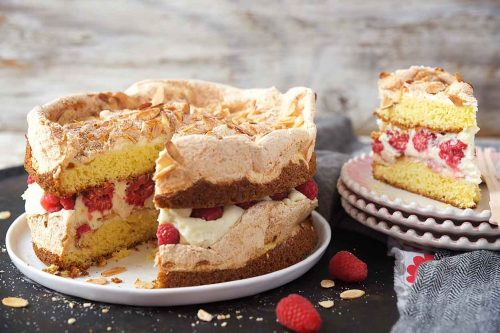 This German Blitz Torte recipe is such a quick and easy cake to make. Even though this recipe looks long and complicated, it isn't. Blitz means lightning or with lightning speed, and that's what this cake is – speedy to make. For something even more special, add strawberries or other berries to the filling. Decorate this German Blitz Torte with whipped cream and more berries – a real treat!
Ingredients:
Meringue
4 egg whites
1 cup granulated sugar
⅓ tsp baking powder
½ cup sliced or chopped almonds
Cake
½ cup butter
½ cup granulated sugar
3 egg yolks
6 tbsp milk
1 cup flour
1 tsp baking powder
1 tsp almond extract
Filling (Custard-type)
1 cup milk
2 tbsp granulated sugar
1 egg yolk
1 tbsp corn starch
1 tbsp butter
½ tsp vanilla or almond extract
1 cup fresh berries (raspberries and blueberries, whole)
Preparation:
Meringue
Preheat oven to 325° F (160° C).
Grease and flour two 8-inch (20 cm) layer pans with removable bottoms. Set aside.
In a bowl, beat egg whites until frothy (soft peak stage). Gradually beat in sugar and baking powder until stiff and glossy. Place in fridge until ready to use.
Cake
In another bowl, cream butter and sugar. Beat in egg yolks.
Mix together flour and baking powder. Add to butter mixture. Add milk and almond extract and mix well.
Spread batter into pans. It will be a thin layer of batter. Use a wet spoon to help spread it out.
Spread half of meringue over batter in each pan.
Sprinkle each pan with almonds.
Finish Cake:
Bake cake until cake tests done and meringue is set, about 35 – 40 minutes. Cool.
While cake is baking, make filling (see below).
Remove cake from pans. Let cool on rack. Place one layer on serving plate with the meringue side up. If you have a cake ring, place it around cake.
Spread filling on layer. Add fresh berries.
Place other layer on top with meringue side up. Carefully remove cake ring, if using.
Decorate with Whipped Cream if desired. Keep refrigerated.
Serves 8.
Filling (Custard-type)
Mix milk, sugar, and corn starch together. Bring to boil, stirring constantly.
Remove from heat. Pour some of the hot milk mixture into the egg yolk and mix. Pour egg mixture back into rest of hot milk and return to heat and bring just to boiling point.
Remove from heat and add butter. Cool and add almond or vanilla extract.




Photo via www.kingarthurflour.com