This is summer time – time of ripe cherries, peaches, apples, strawberries, plums and pears. Let's make the best of it!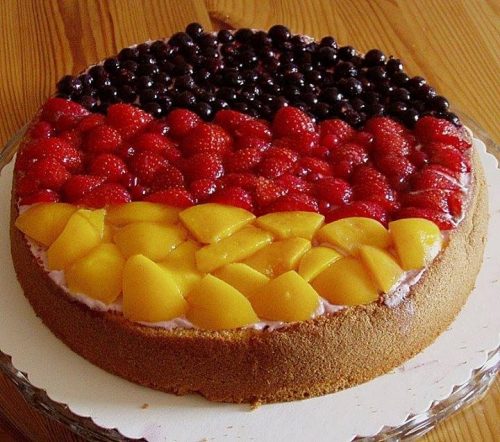 Summer is not very rich in holidays, but you can make yourself one with Obsttorte – German fruit cake. Here is how to cook it.
Ingredients:
Pastry:
6 tbsp all-purpose flour
6 tbsp sugar
1 tsp baking powder
3 eggs
Filling:
blueberries, strawberries and peaches for the German Flag effect
(or any other fruit, and you can also use frozen or canned fruit for this recipe)
1 package of instant vanilla pudding
Glaze (optional):
1 package gelatin (1/4 ounces or 7 g)
1 cup apple juice
1-2 tbsp sugar
Directions:
Preheat oven to 360° F (180° C).
Grease a baking pan.
Put all ingredients in a bowl and mix with a hand mixer till light and fluffy, for about 2 – 3 minutes.
Pour into prepared pan.
Bake for 18 – 20 minutes or until golden brown.
Let cool on rack for about 5 minutes. Turn out onto wire rack and let cool before filling.
Prepare 1 package of instant vanilla pudding (using only 1 ¾ cup milk instead of the required 2 cups). Let pudding thicken and then spread onto cold cake base.
Cover with fruit.
You can cover your Obsttorte with glaze. Sprinkle the package of gelatin over 1/4 cup cold apple juice and let it swell for 5 minutes. Add 3/4 cup hot apple juice (plus 1 or 2 tablespoons sugar, as desired), stirring constantly until gelatin is dissolved. You may need to heat this mixture slightly but do not bring it to a boil or the gelatin loses the ability to set. Place this mixture in the refrigerator until it starts to thicken. Pour, spoon or brush the glaze over the cake. Refrigerate the cake for at least 1 hour and make sure the glaze has set before serving.
Photo via https://goo.gl/mSAuDW.
Recipe via https://goo.gl/GMgZ1x.