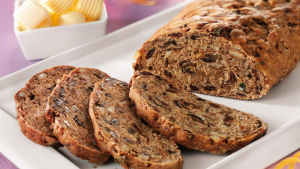 Hutzelbrot is a sweet winter bread treat with loads of dried fruit which keeps very well and tastes delicious on its own or with fresh butter at tea time.
These fruit loaves have many names: originally it's called 'Hutzelbrot' as it is made of dried pears ('Hutzeln'), but other regional names as 'Schnitzbrot', 'Kletzenbrot' or simply 'Früchtebrot', 'fruit bread'. The stingy Swabian farmers' wives would dry the leftover pears to avoid food wastage. It was traditionally made on St. Thomas' day, December 21st, the winter solstice. The wives and maids would embrace their fruit trees with their arms still full of dough to ensure a good harvest in the following year.
Each valley, village and family will have their own recipe for this traditionally yeast-based bread. Although dried pears give it its name, they can easily be replaced by whatever dried fruit you have available. And you don't have to wait until St. Thomas to bake it, you will want to give it a few weeks to mellow: like a Christmas cake or a pudding good things take their time.
Ingredients (for two loaves):
4 cups dried fruit, mostly pears, with some prunes and figs
2 1/4 cups walnuts and hazelnuts, roughly chopped
6 cups spelt flour
4 cups rye flour (plus 2 tbsp.)
1 tsp. salt
2 tbsp. honey
1 packet dried yeast
1 tsp. ground cinnamon
1 tsp. aniseed
For the glaze:
1 tbs. powdered sugar
1/2 tbs. corn starch
Preparation:
Cut the dried fruit in pieces of about half an inch.
In a bowl cover them with water (approximately 1 liter) and leave to soak for 5 hrs or overnight.
Drain, reserving the liquid, and roughly chop the fruit.
Using the dough hook of your stand mixer (you could do all the following with your hands), mix first the two types of flour with the salt and the spices, then add the fruit and nuts.
In a separate small bowl combine the yeast with 250 ml of the fruit soaking liquid and the honey. At slow speed, add this mixture to the flour.
You will certainly need to add more of the soaking liquid to form a slightly sticky dough but the exact quantity depends on the flour.
Scrape the sides of the bowl clean to form the dough into a ball. Sprinkle with 2 tbsp rye flour, cover the bowl with a clean towel and leave to rise for 5 hours in a place that is rather on the cool side.
At the end of this, preheat the oven to 170°C.
Take the dough out of the bowl, knead lightly to form two oval loaves which you place on a lightly greased baking tray and bake for one hour.
Immediately after baking, combine 125 ml of the soaking liquid with the sugar and starch and brush over the hot loaves. When cool, wrap in waxed paper and store in dry, cool place – it will taste better if given at least a week.
Recipe by Ursula Heinzelmann