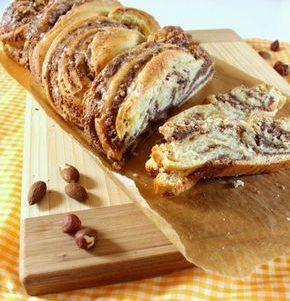 Nusszopf is a classic German cake with hazelnut filling. It is made out of braided yeast dough and filled with almonds or hazelnuts. It's a wonderful coffee time idea.
Ingredients:
Dough
4 cups all-purpose flour
1/2 cup sugar
1/2 tsp. salt
42g fresh yeast
1 cup lukewarm milk
1 egg
1/3 cup butter at room temperature
Filling
2 cups ground nuts
3 tbsp. sugar
2 tbsp. cocoa powder
1 tsp. ground cinnamon
1 egg
1/4 cup milk
Glaze
4 tbsp. powdered sugar
2 tbsp. lemon juice
2 tbsp. water
Preparation:
Mix warm milk with the yeast in a large bowl until well combined. Add flour, sugar, salt and the egg and mix. Add the butter and knead for about 5 minutes. Cover with a kitchen towel and let rise in a warm place for 30 to 60 minutes.
Mix the nuts, sugar, cocoa powder, cinnamon and the egg. Add the milk gradually, the mix should not get too runny but should be still easy to spread.
Preheat the oven to 200°C. Roll out the dough in a rectangle and spread the nut mix on top. Roll up tight from one side. Place the roll on a greased baking sheet in front of you and cut the roll from the middle to one end with a sharp knife. Braid the two parts by laying one over the other while turning the inside out. You should see the layers with the filling when done. Do the same with the other side. Bake for 35 minutes on the lowest level.
Mix powdered sugar with lemon juice and water. Spread it over the hot braided Nusszopf.