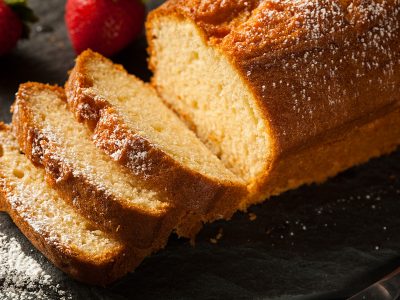 Sandkuchen is a classic German coffee cake. It is called Sandkuchen (literally "sand cake") because of its color that reminds of sand. This cake is very easy to make and great for baking beginners. You can make it with or without a glaze. Any glaze is great for this cake or add some streusel too.
Ingredients:
Dough
250 g butter  (room temperature)
250 g sugar
1 package vanilla sugar
1 pinch salt
1 tbsp lemon juice
4 medium eggs
200 g flour
100 g potato starch
1 tbsp baking powder
Glaze
250 g powdered sugar
2 tbsp lemon juice
1 tbsp hot water
Preparation:
Mix butter, sugar, vanilla sugar and salt until creamy.
Add lemon juice or lemon flavor, then eggs one after the other and beat a bit more but no longer than 2 minutes.
Mix flour, starch and baking powder and add to the dough.
Grease a rectangular baking form and sprinkle with breadcrumbs (or use baking paper), fill with dough and bake in preheated oven at 180 C for 50-60 min.