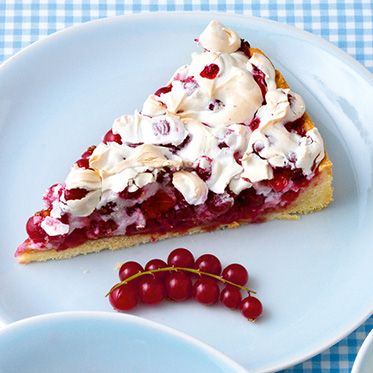 Hands down the best red currant cake out there – Träubleskuchen! The etymology of its name is very curious.  In Swabian, anything can – and will – be diminuted by adding the suffix -le to the noun. Thus a car – Auto – becomes an Autole, a little car, and a house – Haus – a Häusle, a small house. Red currants look a little bit like small grapes, which are Trauben, hence in Swabian they are called Träuble, or small grapes. A word of warning, if you are ever in Germany: before asking for this cake, check your map. Outside the Swabian-speaking parts, red currants are called Johannisbeeren, and nobody will have a clue as to what you mean by a "small grape cake".
Ingredients:
Dough
200 g flour
60 g sugar
½ packet ( 8 g) baking powder
1 packet ( 16 g) vanilla sugar
125 g butter
1 egg
Filling
600 g red currants (washed and de-stalked)
3 large egg whites
75 g sugar
125 g ground almonds
Topping
3 large egg whites
75 g sugar
Preparation:
To make the dough, mix together all ingredients until smooth, form into a ball, and refrigerate until required.
When you are ready, carefully roll out the pastry on a slightly floured surface and fit it into the baking pan.

Press the dough into the pan, then cut off the excess.

For the filling, beat the egg whites until stiff, then slowly add the sugar while still mixing. Add the red currants and the ground almonds, and mix into the egg whites until well distributed.
Put the berry mix on top of the dough and cover with topping (beat the egg whites until stiff, then add the sugar).
Bake at 200°C for 60 minutes, checking to make sure the topping doesn't burn. You might have to cover it with a bit of tin foil after a while to prevent it from getting too dark.
Serve with coffee.