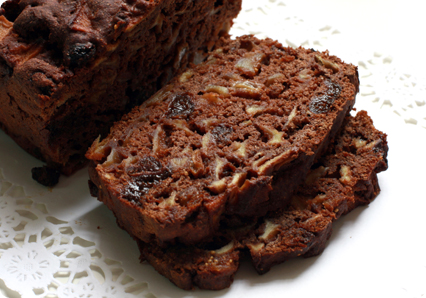 Ingredients:
125g dried apricots
250g dried pears
250g dried figs
250g stoned prunes
125g currants
250g sultanas
250g sugar
225ml water
1 cup liquid for
1 packet of dried yeast
250g flour
1 tsp cinnamon
1 pinch of ground cloves
1 pinch of ground cardamom
1 pinch of ground ginger
250g chopped hazelnuts
50g chopped candied orange peel
50g chopped candied lemon peel
Butter for the baking tray
Preparation:
1. Chop the apricots, pears, figs and prunes an place in a bowl. Add the currants and sultanas. Soak the fruit in warm sugar water and leave to stand for 24 hours.
2. The following day place the fruit and marinade in a saucepan. Add water. Bring to the boil for approx. 5 mins. Sieve the fruit and collect the juice. Bring the juice to the boil again. Take one cup of the juice, allow to cool slightly and add the yeast.
3. Mix the flour with the spices and sieve onto the work surface/board. Create a well in the middle and pour the yeast mixture into the well. Mix to a firm dough adding a little more of the liquid if necessary. Wrap the dough and leave to rise for 30 mins.
4. Gradually add the nuts, candied orange and lemon peel, and the dried fruit and knead well into the dough. Form the dough into a loaf. Leave to rise for an hour again. Preheat the oven to 180°C. Butter the baking tray and bake the loaf for about an hour.