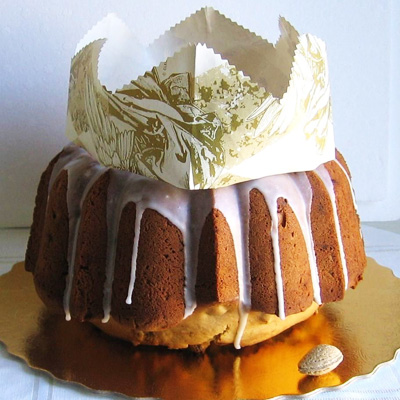 Three King's Cake (or bread) is closely allied with the traditions around the Epiphany (January 6th). This date commemorates the visit the Three Wise Men made to the baby Jesus in Bethlehem.
Ingredients:
Dough
3/4 cup light raisins
3/4 cup chopped dates
1 1/3 cups chopped walnuts
1/2 cup chopped dried apricots
1/2 cup chopped candied orange or lemon peel
1/2 pound (2 sticks) softened butter
4 cups confectioners' sugar
8 large eggs
4 cups + 3/4 cup all-purpose flour
4 teaspoons baking powder
2 teaspoons vanilla extract
1/2 cup brandy or whiskey or orange juice
Glaze
1 cup confectioners' sugar
3 tablespoons lemon or orange juice
Preparation:
1. Heat oven to 190 degrees C. Lightly coat a 24 cm baking pan and two mini loaf pans (for gifting!) with cooking spray. Mix fruits and nuts and toss with 3/4 cup flour to keep ingredients from clumping together in cake batter.
2. In a large bowl or stand mixer, cream together butter and sugar until light and fluffy. Add eggs one at a time, beating after each.
3. In a separate bowl, mix together 4 cups flour and baking powder and slowly add to the butter-sugar-egg mixture, combining thoroughly. Add vanilla and liquor or juice, mixing well. Stir in fruit-nut mixture by hand until thoroughly incorporated.
4. Pour batter into prepared pan and bake mini loaves 25 minutes to 35 minutes or more, and large pan 45 minutes to 1 hour or more, or until toothpick tests clean.
5. Let cake cool on a wire rack for 20 minutes before inverting onto rack to cool completely. Combine glaze ingredients and pour over cooled cake, letting it run down the sides.
6. When cutting the cake, insert a whole unshelled almond in one slice of cake from the underside. Make a paper crown, if desired, and place it atop the cake. Let guests serve themselves. Whoever gets the almonds is king or queen for the day and wears the crown.