April 9, 1486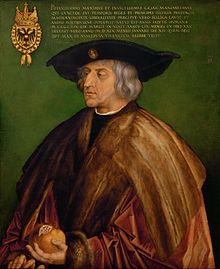 The Habsburg, Maximilian I is crowned German king at Aachen. He would later become the Holy Roman emperor. Maximilian expanded the influence of the House of Habsburg through war and his marriage in 1477 to Mary of Burgundy, the heiress to the Duchy of Burgundy, though he also lost the Austrian territories in today's Switzerland to the Swiss Confederacy. Through marriage of his son Philip the Handsome to eventual queen Joanna of Castile in 1498, Maximilian helped to establish the Habsburg dynasty in Spain, which allowed his grandson Charles to hold the thrones of both Castile and Aragon.
April 9, 1598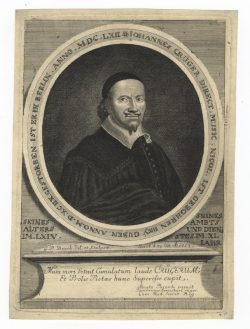 Birth of Johannes Crüger in Gross-Breesen, Germany. Crüger was a composer and music theorist. He composed the music to Jesu, meine Freude, Nun danket alle Gott, and Herzliebster Jesu, was hast du verbrochen. His most important book of theory was Synopsis musica (1630). From 1622 until his death he was the cantor at the Nikolai church in Berlin.
April 9, 1627
Birth of Johann Caspar von Kerll in Adorf, Germany. Kerll was a Baroque composer. He studied in Munich and then in Italy with Carissimi and Frescobaldi. He was the court opera conductor in Munich from 1656-1674 and organist of St. Stephen's Cathedral in Vienna from 1677-1684. He composed masses, requiems and Magnificats.
April 9, 1754
Death of Christian Freiherr von Wolff in Halle, Germany. Wolff was a philosopher and mathematician of the Enlightenment. He studied with Leibniz and on his recommendation was appointed to a position at the University of Halle in 1707. His work and thought centered around the idea that all things must have adequate (understandable) reason for occurrence.
April 9, 1794
Birth of Theobald Boehm in Munich, Germany. Boehm was a concert flutist and instrument maker who developed the Boehm system of construction for the flute, clarinet and oboe. The system was further developed by the French instrument maker, Auguste Buffet.
April 9, 1859
Birth of Julius Hart in Münster, Germany. He and his brother Heinrich were key figures among Berlin literary leaders introducing Naturalism into German literature. The edited Kritische Waffengänge, Berliner Monatshefte, Kritisches Jahrbuch and Die Freie Bühne.
April 9, 1865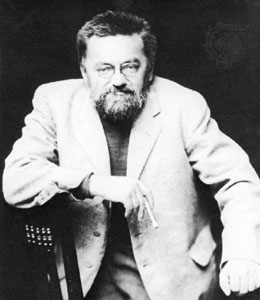 Birth of Charles Proteus Steinmetz (1865-1923) (original name Karl August Rudolf Steinmetz) in Breslau, Germany (now in Poland). Steinmetz was an electrical engineer who was educated at the University of Breslau. In 1889 he immigrated to the United States. At age 27 he developed the "law of hysteresis loss", a major step forward in electrical design. His other great contribution to the development of the use of electricity was in the area of calculations in alternating current. His work on this subject is presented in his book, Theory and Calculation of Alternating Current Phenomena (1897). He was president of the American Institute of Electrical Engineers from 1901-02.
April 9, 1870
Friedrich Nietzsche is promoted to "ordinarius" at University of Basel.
April 9, 1870
Die Deutsche Bank opens its first bank in Berlin.
April 9, 1886
Death of Joseph Victor von Scheffel in Karlsruhe, Germany. Scheffel was a novelist and poet. His poet "Der Trompeter von Säckingen" (1854) was widely popular as was his novel Ekkehard (1855). He is also known for his 1868 publication Gaudeamus! a collection of student drinking songs.
April 9, 1945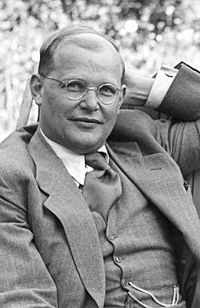 Execution of Dietrich Bonhoeffer (1906-1945) in the Flossenburg concentration camp. Bonhoeffer was a Protestant theologian strongly supportive of ecumenism. Bonhoeffer studied at the universities of Tübingen and Berlin. In his development he was strongly influenced by the writings of Karl Barth. In 1931 he was appointed lecturer in systematic theology at the University of Berlin. From the beginning Bonhoeffer was opposed to the Nazi party and actively resisted. Bonhoeffer was arrested on April 5, 1943 for his activities in resistance. In 1944 when the attempt was made to assassinate Hitler, the following investigation showed direct links between Bonhoeffer and the conspiracy. He was executed on April 9, 1945 in Flossenburg Prison. Noted works by Bonhoeffer were published posthumously, Ethik (1949), Widerstand und Ergebung (1951)
April 9, 1945
Execution of Wilhelm Canaris (1887-1945) in the Flossenburg concentration camp. Canaris was appointed to head the Abwehr (military intelligence) in 1935. He oversaw German military aid to Spain's general Franco during the Spanish Civil War. By 1944 he was opposed to Hitler and participated in the attempted assassination of Hitler. He was arrested, sent to the Flossenburg concentration camp and executed there.
Back to Today in German History Calendar