January 20, 1488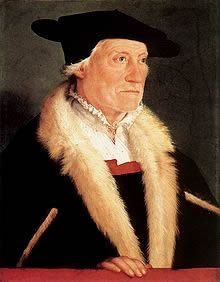 Birth of Sebastian Münster (1488-1582) in Ingelheim, Germany. Münster was professor of Hebrew at the University of Basel after 1527. His major contribution to scholarship was his Cosmographia, published in 1544. That book, proceeding from the geography of Ptolemy, represented a revival of the science of geography in Germany, and was the earliest German description of the world.
January 20, 1586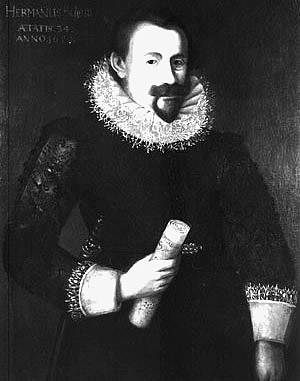 Birth of Johann Hermann Schein (1586-1630) in Grünhain, Germany. As a composer of sacred and secular music, he was one of the musicians of the period to introduce Italian Baroque style into German music. He became the cantor at the Church of St. Thomas in Leipzig in 1616 (a position which Johann Sebastian Bach would hold after starting in 1723).
January 20, 1813
Death of Christoph Martin Wieland in Wiemar, Germany. His Geschichte des Agathon is considered the first of the genre of "Bildungsroman". He was one of the luminaries at the court of Weimar.
January 20, 1859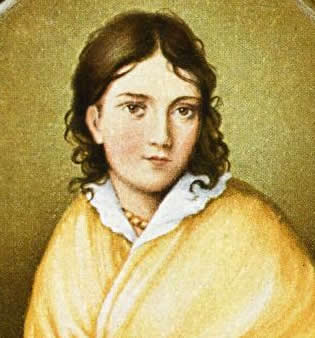 Death of Bettina von Arnim (1785-1859) in Berlin. Born Elisabeth Brentano, she married the poet Achim von Arnim in 1811 and took his name. She bore seven children and was a devoted mother. She was, however, not satisfied with the purely domestic life. She is the author of the books, Goethes Briefwechsel mit einem Kinde (1835), Die Günderode (1840), Dies Buch gehört dem König (1843), Clemens Brentanos Frühlingskranz (1844) and Gespräche mit Dämonen (1852). She was also a talented sculptor and musician. Her mother had been close friends with Goethe, and Bettina too became a good friend of his until 1811 when Goethe's wife Christiane found the friendship inappropriate.
January 20, 1943
Death of Max Freiherr von Beck in Vienna, Austria. He became chancellor of Austria in 1906 and in that role established universal male suffrage in 1907.
Back to Today in German History Calendar