January 9, 1674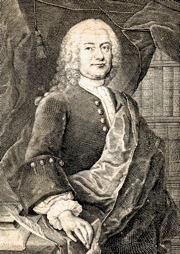 Birth of Reinhard Keiser (1674-1739) in Weissenfels, Germany. An early composer of operas, his style starts with Baroque and ends with Rococo. He studied music in Leipzig but then went to Hamburg where he wrote 120 operas.
January 9, 1803
Birth of Christopher Memminger in Nayhingen, Germany. As a young man he immigrated to the United States. After the election of Abraham Lincoln he worked for secession. He became secretary of the treasury for the Confederate government.

January 9, 1823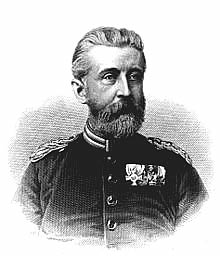 Birth of Friedrich von Esmarch (1823-1908) in Tönning, Germany. Esmarch was a military surgeon and a professor of surgery at the University of Kiel. He wrote a handbook on first aid for civilians and military uses and introduced the first-aid bandage (Esmarch bandage which is designed to act as a tourniquet to restrict the flow of blood into a limb in order to limit blood loss) on the battlefield. When the Franco-Prussian War broke out in 1870, he was appointed surgeon-general to the army, and afterwards consulting surgeon at the great military hospital near Berlin.
In 1872 Esmarch married Princess Caroline Christiane Auguste Emilie Henriette Elisabeth of Schleswig-Holstein-Sonderburg-Augustenburg (1833–1917). In 1887 a patent of nobility was conferred on Esmarch.
January 9, 1848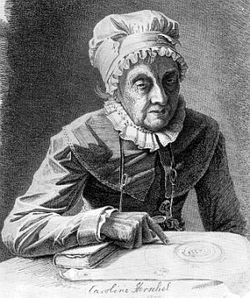 Death of Caroline Lucretia Herschel (1750-1848) in Hannover, Germany. Herschel was the sister of the astronomer Sir William Herschel. Some years after William had emigrated to England, he sent for her. Her early assignment was to keep house and to grind and polish mirrors for her brother. She soon began, however, to do much of the mathematical calculation of her brother's work. After she had begun to do her own telescopic observations she discovered three nebulae and eight comets. In 1798 she completed a catalog of 560 stars missing in the British Catalogue. By 1822 she had completed a catalog of 2,500 nebulae and star clusters. She was given a gold medal by the British Astronomical Society. After her brother's death she returned to Germany and continued her work there.
January 9, 1869
Birth of Richard Abegg in Danzig, Prussia (now in Poland). Abegg was a physical chemist at the University of Breslau whose work gave rise to the concept of valence.
January 9, 1876
Birth of Robert Michels (1876-1936) in Cologne, Germany. Michels, a political sociologist and economist, developed the thesis that all organizations inevitably develop into authoritarian oligarchies. His most noted book is Zur Soziologie des Parteiwesens in der modernen Demokratie (1911). After his studies in Germany he moved to Italy where he held academic posts in Turin, and Perugia.
January 9, 1890
Birth of Kurt Tucholsky in Berlin. Tucholsky was a satirist and cabaretist. Tucholsky's left leaning books were banned by the Nazi party in 1933 and his German citizenship was taken from him. He committed suicide in 1935.
January 9, 1908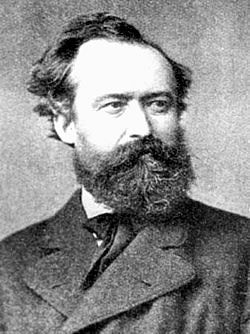 Death of Wilhelm Busch (1832-1908) in Mechtshausen bei Seesen, Germany. Busch was a humorous writer, painter and poet. His best known works are Max und Moritz and Die fromme Helene (1872). His drawings with humorous poems are the forerunner to the comic strip. His Max und Moritz was imported to the United States in the form of The Katzenjammer Kids or later The Captain and the Kids.
Back to Today in German History Calendar