July 3, 1709
Birth of Wilhelmine Friederike Sophie, Margravine of Bayreuth, in Berlin. She made Bayreuth a cultural center, constructing an opera house and attracted intellectuals and artists to Bayreuth.
July 3, 1789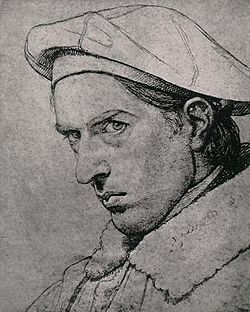 Birth of the painter Johann Friedrich Overbeck (1789-1869) in Lübeck. Overbeck was a German painter and member of the Nazarene movement.
July 3, 1792
Death of Ferdinand in Vechelde, Germany. Ferdinand, was the brother-in-law of the Prussian king, Fredrich II. As a general he was a dominant military force in Prussia's Seven Years' War against Austria. In the war of the American Revolution, he was offered a post by England at the head of British troops in America but he declined.
July 3, 1839
A Swiss immigrant, Johann Sutter, arrives in Monterey, California. In 1848 he would discover gold which would start the California gold rush.
July 3, 1844
Birth of Dankmar Adler (1844-1900), in Stadtlengsfeld, Germany. Because his mother died during childbirth, his father chose the name Dankmar, which means "bitter thanks." At the age of ten, Adler and his father immigrated to Detroit, Michigan. Later on they moved to Chicago where Adler displayed interest in architecture and soon became an architect. In 1880 he invited Louis Sullivan to join his firm. They became extremely successful and designed approximately 180 buildings over their 15-year partnership. They pioneered a new style of building which led to modern building philosophy. Adler was not only an architect but also a gifted civil engineer who, with his partner Louis Sullivan, designed many buildings including steel-framed skyscrapers like the Guaranty Building in Buffalo, New York, the Chicago Stock Exchange Building and the Wainwright Building in St. Louis, Missouri.
July 3, 1848
The constitutional committee of the Frankfurt parliament presents a draft of basic rights.
July 3, 1866
Austria loses the Battle of Königsrätz to Prussia and Prussia becomes the dominant power in central Europe.
July 3, 1883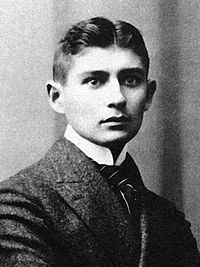 Birth of the existentialist writer, Franz Kafka (1883-1924), in Prague, (Austria-Hungary). His works, such as "Die Verwandlung" ("The Metamorphosis"), Der Process (The Trial), and Das Schloss (The Castle), are filled with the themes and archetypes of alienation, physical and psychological brutality, parent–child conflict, characters on a terrifying quest, labyrinths of bureaucracy, and mystical transformations. Albert Camus and Jean-Paul Sartre are among the writers influenced by Kafka's work; the term Kafkaesque has entered the English language to describe surreal situations like those in his writing.
July 3, 1944
In an attempt to hold back the Allies in the west, Hitler replaces General von Rundstedt with General Kluge.
July 3, 1979
The German government voted to remove the statute of limitations for murder, thus making possible the continued prosecution of Nazi war criminals.
Back to Today in German History Calendar