June 18, 1152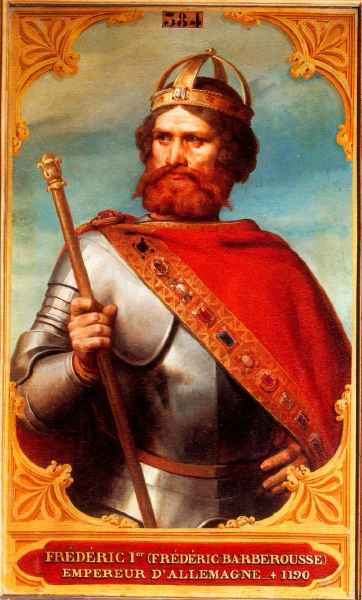 Friedrich I (Barbarossa) is crowned Emperor of the Holy Roman Empire by Pope Adrian IV in Rome. (Barbarossa is from Latin and means "red beard"). Before his imperial election, Frederick was by inheritance Duke of Swabia (1147–1152, as Frederick III). He was the son of Duke Frederick II of the Hohenstaufen dynasty and Judith, daughter of Henry IX, Duke of Bavaria, from the rival House of Welf. Frederick, therefore, descended from the two leading families in Germany, making him an acceptable choice for the Empire's prince-electors.
Historians consider him among the Holy Roman Empire's greatest medieval emperors. He combined qualities that made him appear almost superhuman to his contemporaries: his longevity, his ambition, his extraordinary skills at organization, his battlefield acumen and his political perspicuity. His contributions to Central European society and culture include the reestablishment of the Corpus Juris Civilis, or the Roman rule of law, which counterbalanced the papal power that dominated the German states since the conclusion of the Investiture Controversy.
Frederick died in 1190 in Asia Minor while leading an army in the Third Crusade.
June 18, 1815
Napoleon defeated at Waterloo by armies of General Wellington (England) and General Blücher (Germany.)
June 18, 1821
Premiere of Carl Maria von Weber's opera, Der Freischütz in Berlin.
June 18, 1916
Death of Helmuth von Moltke, German General in the war with Denmark, the war with Austria and the war with France.
June 18, 1849
The remainder of the Frankfurt parliament which has been moved to Stuttgart is dissolved. 98 delegates were still active of the 450 which had meet in Frankfurt in 1848.
June 18, 1880
Death of Johann Augustus Sutter in Washington, D.C. (born in Kandern, Switzerland). Beset with financial problems, he left his family and set out for the New World. He was granted lands in California by the Mexican governor and founded a town, Nueva Helvetia (now called Sacramento). He built Sutter's Fort in 1841 and set up a series of industries. In the process of building one of those industries, a sawmill, in 1848 he found gold. He was soon overrun by the California gold rush and eventually lost everything (California had been ceded to the U.S. in 1847 and the U.S. did not recognize the land grants given to him by the Mexican governor). He spent the remainder of his life trying to gain compensation for his losses.
June 18, 2004
European delegates agree on the EU constitution. It is anticipated that an additional two years will be required to finish the text and complete the ratification process.
Back to Today in German History Calendar