October 3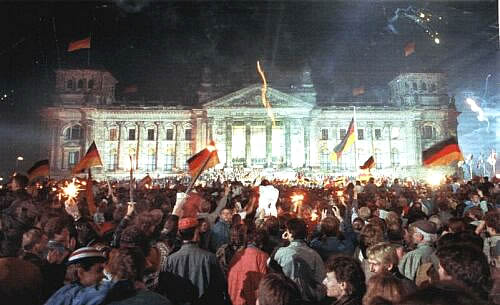 Day of German unity. This is a national holiday in Germany commemorating unification of the two Germanys after 40 years of separation (1949-1989). Germany reunited on October 3, 1990.
October 3, 1210
It is most likely that Hermann von Salza was elected Grand Master of the Teutonic Knights on this date. He held that office until 1239. He governed the Knights during the crusade in Hungary and during the crusade against the pagan Prussians which would result in the creation of Prussia as a German land.
October 3, 1824
Birth of Harry Graf von Arnim in Moitzelfitz, Germany (now Poland). As Prussian envoy to the Holy See in 1864, he actively supported the bishops opposed to the declaration of papal infallibility. Later a controversy arose in which he was accused of stealing official documents, was arrested and sent to prison. When he was released he fled to France. He died in Nice, France in 1881. His case gave rise to the "Arnim Paragraph", a law making disclosure of official documents a criminal offense.
October 3, 1826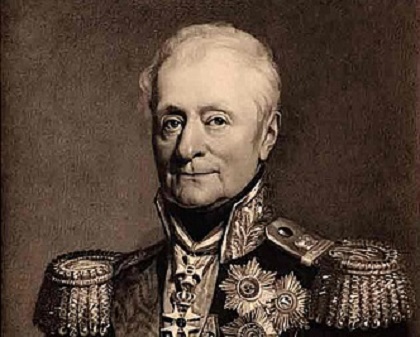 Death of Leonty Leontyevich Graf von Bennigsen in Grunswick, Germany (original name Levin August Gottlieb von Benninsen). Bennigsen joined the Russian army in 1773 and fought the Turks in 1774 and 1778. He was a Russian officer crushing the Polish uprising in 1793. He participated in the Russian invasion of Persia in 1796. He became the governor of Lithuania in 1801. He fought Napoleon in 1806, 1807, and 1812. He led a Russian force against Napoleon again at the Battle of Leipzig in 1813. In 1818 he retired to his estate near Hildesheim, Germany.
October 3, 1929
Death of Gustav Stresemann, Chancellor of the Weimar Republic, in Berlin.
October 3, 1976
The 8th parliamentary elections of the Federal Republic of Germany (Bundesrepublik Deutschland) (West Germany) are held. The CDU/CSU gets 48.6% of the vote, the SPD 42.2%, the FDP 7.9%. A coalition government is formed between the SPD and FDP. HelmutSchmidt (SPD) continues as chancellor and Hans-Dietrich Genscher (FDP) as vice chancellor and foreign minister.
October 3, 1988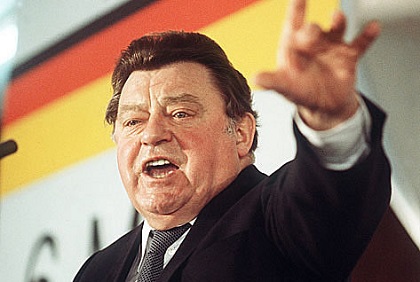 Death of Franz Josef Strauß in Regensburg, Germany. Strauß was elected to Bundestag in 1949 and served as a political leader in a variety of functions until his death in 1988. The Bavarian was one of the founders of the Christian Social Union and the Minister-President of Bavaria after 1978.
October 3, 1990
Reunification of Germany after 40 years of division. East Germany becomes the Federal states of Mecklenburg-Vorpommern, Brandenburg, Sachsen, Sachsen-Anhalt, Thüringen and Berlin. Chancellor Kohl declares in a message to all nations of the world that, in future only peace shall come from Germany and that Germany makes no territorial claims on any nation. (There had still been lack of agreement concerning the pre 1945 territories of Pomerenia, Silesia and East Prussia.)