October 4, 1515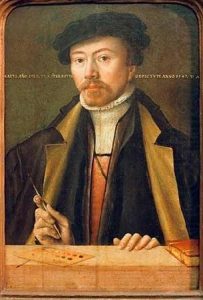 The painter Lucas Cranach the Younger is born in Bamberg, Germany. Lucas Cranach was a German Renaissance painter and portraitist, the son of Lucas Cranach the Elder. He began his career as an apprentice in his father's workshop alongside his brother Hans. Henceforth, his own reputation and fame grew. After his father's death, he assumed control over the workshop.
On 20 February 1541 he married Barbara Brück, who went on to bear three sons and a daughter; she died on 10 February 1550. Thereafter Cranach remarried, wedding Magdalena Schurff on 24 May 1551. This union produced three daughters and two sons, including Augustin Cranach.
He is known for portraits and simple versions of allegorical and mythical scenes. The style of his paintings can be so similar to those of his father that there have been some difficulties in attribution of their works. Prominent scholars seem to, nowadays, tend toward the opinion of honest description of his talent as stoic and undeveloped, at most.
October 4, 1797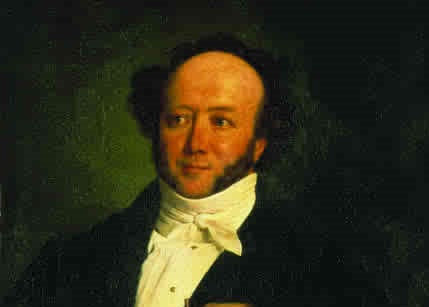 Birth of Jeremias Gotthelf in Morat, Switzerland. Jeremias Gotthelf was a pseudonym chosen by the writer Albert Bitzius. His books were intended to extend his duties as a pastor and stress religion and conservative values. Noted works by Gotthelf include Die schwarze Spinne, Uli der Knecht, and Leiden und Freuden eines Schulmeisters.
October 4, 1859
Death of Karl Baedeker in Koblenz, Germany. Karl Baedeker founded the publishing company which publishes the archetypal guidebooks for Germany. The name Baedeker has become synonymous with "guidebook".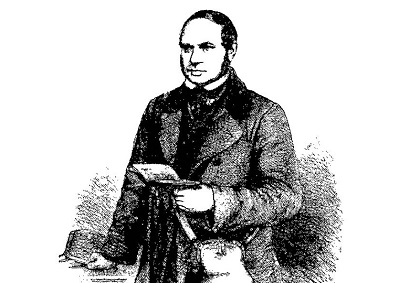 Baedeker founded his company in 1827 and bought and published his first guidebook in 1829. The company was moved from Koblenz to Leipzig, in 1872, to Hamburg in 1948 and to Freiburg in 1956. The red bindings and gilt lettering soon became the familiar hallmark of Baedeker's guides, and the content became famous for its detail and accuracy. While the travel guide was not a new form (Baedecker followed the model of English guide books instituted by John Murray), Baedeker's innovation was to include specific details of transportation, accommodations, prices, and so forth. Starting in 1844, he augmented this with star ratings for attractions. Baedeker was famous for his careful work; when visiting Milan Cathedral in 1847, he was observed to drop a pea at every twenty steps of the staircase to the roof, so as to be able to report the number of steps accurately. Eventually his guide books were issued in English and French as well as in German.
October 4, 1877
Death of Eduard Devient in Karlsruhe, Germany. Devient was an actor, director, manager in German theater of the 19th century. He translated Shakespeare into German. He is noted also for his history of German theater, Geschichte der deutschen Schauspielkunst.
October 4, 1892
Birth of Engelbert Dollfuss in Texing, Austria. Dollfuss became chancellor of Austria in 1932. He worked closely with the Italian, Mussolini, and worked to restructure Austria after the Fascist model. He abolished parliament in 1933. With a new constitution in 1934 he achieved dictatorial power. He was assassinated by members of a Nazi insurgency in 1934.
October 4, 1903
Birth of Ernst Kaltenbrunner in Ried im Innkreis, Austria-Hungary. Kaltenbrunner was the leader of the Austrian SS. In 1942 he was called to Berlin to administer the Gestapo and the concentration camps. He was executed in Nürnberg in 1946.
October 4, 1903
Suicide of Otto Weininger in Vienna, Austria. Weininger, the son of a Jewish family, became a Christian immediately upon his receipt of a doctorate from the University of Vienna in 1902. The following year he published a book Geschlecht und Charakter (1903) in which he attributed positive, productive and moral characteristics to what he called "masculine character" and negative, unproductive and amoral characteristics to what he called "feminine character". He went on to describe Judaism as feminine and thus negative, unproductive, and amoral as opposed to Christianity with its very positive characteristics. Needless to say the anti-Semites were quite fond of his book. Weininger committed suicide at age 23 soon after his book was published.
October 4, 1940
Adolf Hitler and Benito Mussolini meet at the Brenner Pass for a conference.
October 4, 1989
A second train is allowed to bring an additional 7,600 East Germans from Prague to West Germany. The first train had brought 6,000.