Gerhard Richter – the Famous German Artist
Gerhard Richter was born in Dresden in 1932 to a middle class family. He left school after tenth grade and apprenticed as an advertising and stage-set painter, before studying at the Dresden Art Academy. Gerhard Richter taught as a visiting professor in Hamburg and in 1971 became tenured professor at Dusseldorf Art Academy.
Gerhard Richter began to work with artists such as Sigmar Polke, Konrad Fischer-Lueg and Georg Baselitz. Their work, and Richter's in particular, began to have an impact in Germany, and eventually to international art circles. Together with Polke and Fischer-Lueg, Richter formed a group called the Capitalist Realists. The Capitalist Realists were satirical, often deriving subject matter from print media. Richter began to see art as something that had to be separated from art history. He wanted to find a new way of painting that would not be constricting.Richter emerged from the group to become one of the most sought after contemporary artists in the world. His work is regularly sold at auction, sometimes for millions.
Exhibitions and prizes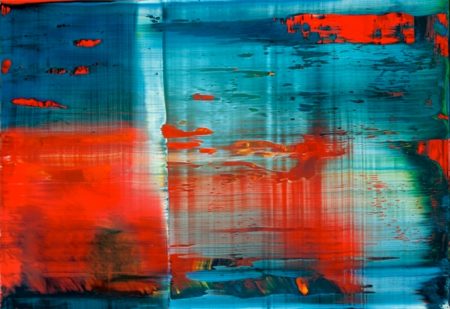 Richter's first solo exhibition was held at Mobelhaus Berges, Dusseldorf in 1963. It was the first presentation of his photo-based painting style. Richter blurred the paintings, modernising traditional art through technique, and using photography as his source of material. In 1967 Gerhard Richter won the Junger Westen Prize and began to paint the Colour Charts, Grey Paintings and Forty-Eight Portraits. In 1972 Richter was chosen to represent Germany at the Venice Biennale. That same year, he exhibited at Documenta in Kassel, where he showed again in 1977, 1982 and 1987. At Documenta in 1982 Richter was awarded the Arnold Bode Prize and in 1985 in Vienna the Oskar Kokoschka Prize. International Recognition Richter's first exhibition in the U.S. took place at the Reinhard Onnasch Gallery in 1973. In 1964 Richter began to arrange photographs on panels-snapshots, often banal, clippings from newspapers and magazines, even some pornographic pictures. These panels became a work in their own right, to which Richter gave the title Atlas. Atlas has been exhibited at various intervals, most recently in 1995 at the Dia Center for the Arts in New York, at which venue there were already 600 panels and something like 5,000 photographs.
Personal life
Gerhard Richter married Marianne Eufinger in 1957. Nine years later, she gave birth to his first daughter Betty. He married his second wife, the sculptor Isa Genzken in 1982 . Richter had his son, Moritz, with his third wife Sabine Moritz the year they were married, 1995. One year later, his second daughter, Ella Maria, was born.
Art tendencies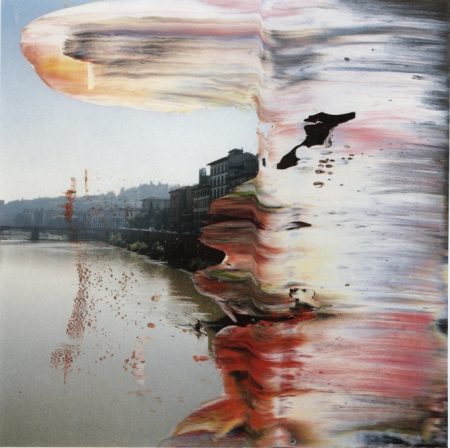 Gerhard Richter has published a number of catalogues, monographs, and books of his artwork and notes on painting, and has been awarded many honors and prizes for his art. He continues to make and exhibit paintings. Although Richter gained popularity and critical praise throughout his career, his fame burgeoned during his most recent retrospective exhibition, which declared his place among the most important artists of the 20th century. Today, many call Gerhard Richter the best living painter. Richter has a tendency to despise the work of his colleagues which betrays his ambiguous relationship to German history as well as an astonishing inability to see into the consequences of his public remarks. In 2005, he urged the citizens of Salzburg to "do something about" a sculpture by his colleague Markus Lupertz in a interview by the SPIEGEL, after describing this work as a sign of the deprivation of public art sponsorship in Germany; the sculpture, an homage to Mozart, was promptly attacked by a right-wing art activist from Austria and badly damaged.
Gerhard Richter's work is full of tension between depicted reality and the actuality of painting: process and material. Richter's paintings consistently support a unified theme that is twofold:
1. Images (and ideas and ideals) are static, superficial, and unachievable.
2. Reality is a process of imagination and material creation and revision. Richter's subject is the range of relationships between illusion and this reality, his painting.
Gerhard Richter is considered by some critics as one of the most important German artists of the post-World War II period and is also one of the world's most expensive, with his paintings often selling for several million dollars apiece.