Rudolf Epp (July 30, 1834 – August 8, 1910) was a German realist painter, associated with the Munich School.
Rudolf Epp was born in 1834 in Eberbach am Neckar, the son of a decorative painter. After he had started drawing from his own initiative and was artistically active, he was first taught by the landscape painter Karl Ludwig Seeger. He then studied at the Grand Ducal Baden School of Art Karlsruhe as a student of Johann Wilhelm Schirmer and Ludwig Des Coudres and attended the Academy of Arts in Dusseldorf.
Due to his obvious talent he was on leave by the then regent and later Grand Duke Friedrich I of Baden from military service. A Grand Ducal contract and additional funds allowed Epp a study trip to the Black Forest. Around 1859 he made numerous landscape studies in the area around Freiburg im Breisgau and Landstuhl.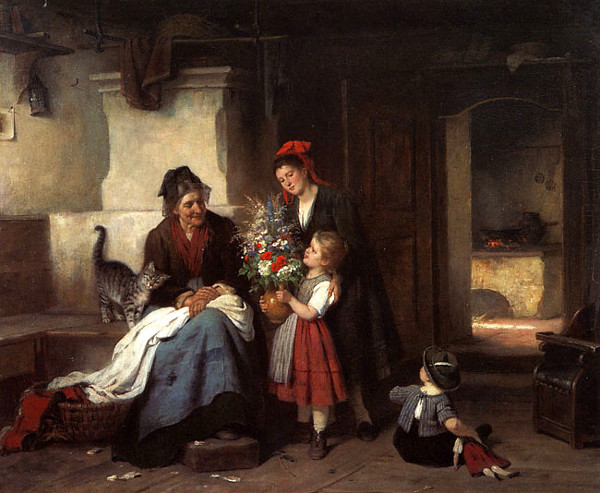 Rudolf Epp is representative of many of these artists who soon fell into oblivion and to this day are summarized under the generic term of the "Munich School". Epp has managed to remain true to his artistic forms of expression and not to succumb to the artificial and exaggerated clichés of the bourgeois consumer class. His motifs are lifelike and describe life at the end of the 19th century without distinction. This makes them attractive to this day and to art and cultural historical valuable testimonials. He was a constantly seeking and progressive in his development master, who did not freeze after five decades of painting in artistic routine, as is often the case with successful painters, but remained stylistically varied. The number of his works is in the hundreds. Many motives he painted several times.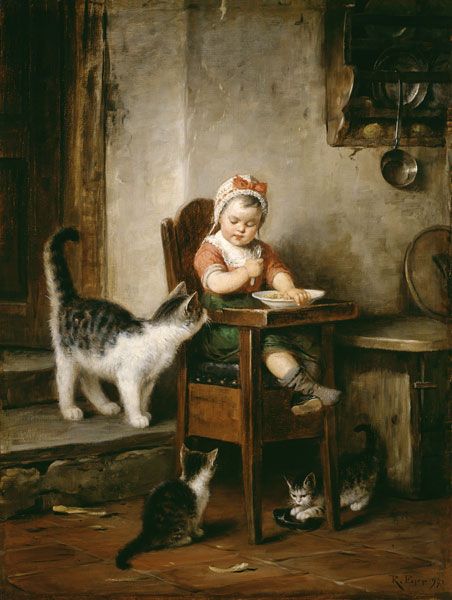 In 1862 he married Katharina, b. Steibl. After the death of the director he moved to Munich in 1863, which was considered the center of art. Carl Theodor von Piloty, who would become director of the academy from 1874 to 1886, invited him there. In Munich, Epp quickly gained a good reputation as a sought-after painter.
In 1868 his son Franz Ritter von Epp was born; 1870 followed the birth of the daughter Helene, 1871, the second daughter, Augusta Anna was born. She remained unmarried until Epps's death and lived in her parents' home. Augusta Anna served her father as a model for various portraits and figural representations.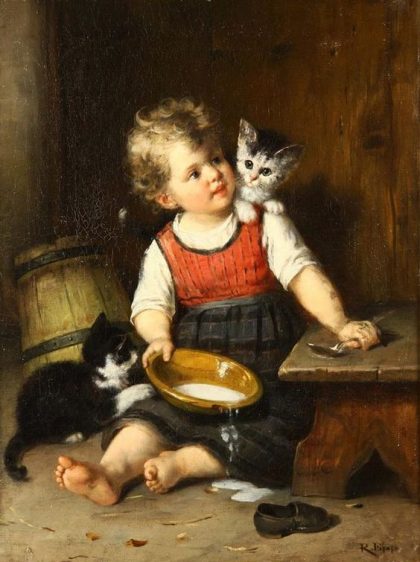 Main component of his artistic work are mainly smaller genre pieces. The fine moods and the skilful combination of finely colored landscape and unaffected natural figures give his paintings a special artistic statement. The humorous picture statements and the lovingly complementary picture details were very well received by the public. The art of Rudolf Epps was also appreciated overseas and a considerable number of his paintings were already sold during his lifetime in the US and found not only as originals but also as reproductions. Motifs after Epp adorned around 1890 the first magazines. Colored postcards (lithographs) with Epp motifs were distributed both in Europe and in North America. Some of his paintings were part of the special commission Linz and went into the possession of the Federal Republic of Germany after the Second World War. Even today, Epp's motifs as art prints and templates for tapestries enjoy great popularity.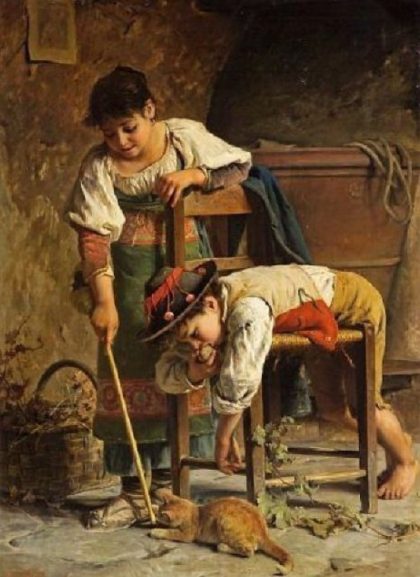 Rudolf Epp was active as a painter until old age, he died in 1910 in Munich. His estate was several years in the Lenbachhaus, the luxurious mansion of his 1904 deceased painter friend Franz von Lenbach in Munich. Part of his estate was auctioned in 1914 by Hugo Helbing in Munich.
The Rudolf-Epp-Straße in Eberbach is named after him.
Works of Rudolf Epp are in numerous public collections, u. a. Mannheim Art Gallery, Staatliche Kunsthalle Karlsruhe, Kunsthalle Bremen, Wallraf-Richartz-Museum (Cologne) and Neue Pinakothek (Munich). Three works are also owned by the Widener University Art Collection & Gallery, Chester, Pennsylvania.