Where does German Chocolate Cake come from? Is Germany its motherland? Or …? There are many questions like these, and as many guesses. However, the truth is that German Chocolate Cake is an American creation.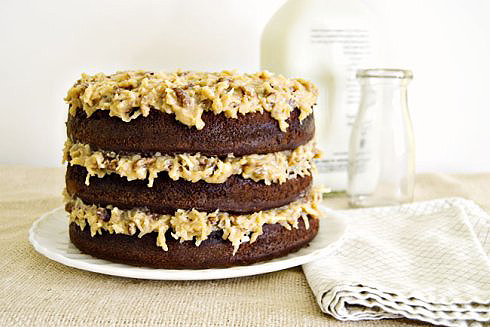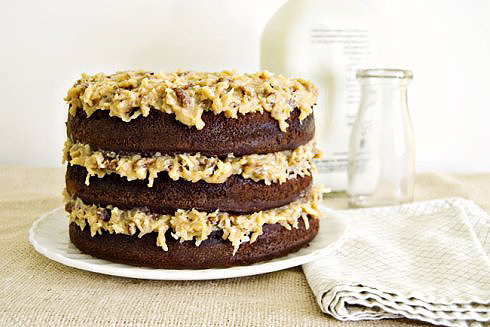 German cooking is famous for its complexity and extravagance in choosing the ingredients. Therefore such a rich dish as German Chocolate Cake might perfectly fit into German cuisine. Yet it was not brought (as is sometimes reported) to the American Midwest by German immigrants. The cake took its name from an American with the last name of "German." In 1852, Sam German created the mild dark baking chocolate bar for Baker's Chocolate Co. The product was named in his honor – "Baker's German's Sweet Chocolate." In most recipes and products today, the apostrophe and the "s" have been dropped, thus giving the false hint as for the chocolate's origin.
The first published recipe for German's chocolate cake showed up in a Dallas newspaper in 1957 and came from a Texas homemaker. The cake quickly gained popularity and its recipe together with the mouth-watering photos were spread all over the country. America fell in love with German Chocolate cake. No wonder: its superb chocolate taste conquers you at first bite!
German Chocolate Cake Recipes
Ever since the first recipe of German Chocolate Cake was published in 1957, there have been created a number of different versions of its cooking. Here is my favorite recipe:
Ingredients:
*-*-*-*-*-*-*-*-*-*-*-*-*-*-*-*-*-*-*-*-*-*
1/2 cup German sweet chocolate
1/2 cup boiling water
1 cup butter
1 cup sugar
4 egg yolks
4 egg whites, stiffly beaten
1 tsp vanilla
2 1/2 cups flour
1 tsp baking soda
1/2 tsp salt
1 cup buttermilk
Cooking:
*-*-*-*-*-*-*-*-*-*-*-*-*-*-*-*-*-*-*-*-*-*
Melt chocolate in boiling water. Cream butter and sugar until fluffy, add egg yolks, vanilla, and chocolate. Add dry ingredients
alternately with buttermilk. Fold in egg whites. Pour into three pans, lined on bottoms with wax paper. Bake at 200 degrees C for 30-35 minutes. Frost tops with Coconut Pecan Frosting, leaving sides unfrosted.
Coconut Pecan Filling and Frosting:
*-*-*-*-*-*-*-*-*-*-*-*-*-*-*-*-*-*-*-*-*-*
1 cup evaporated sweetened milk
3 egg yolks
1/2 cup butter
1 tsp vanilla
1 1/3 cup coconut
1 cup chopped pecans
Combine all ingredients except for coconut and pecans in a saucepan. Stir in coconut and pecans. Let cool down.




Related Recipes:
German Chocolate Cake-1
Most difficult to cook, but the result is amazing.
German Chocolate Cake-2
The best German Chocolate Cake for those who are out of chocolate – substitute it with cocoa!
German Chocolate Cake-3
A very good recipe, could be my favorite had I not tried the Traditional Recipe of GCC version.