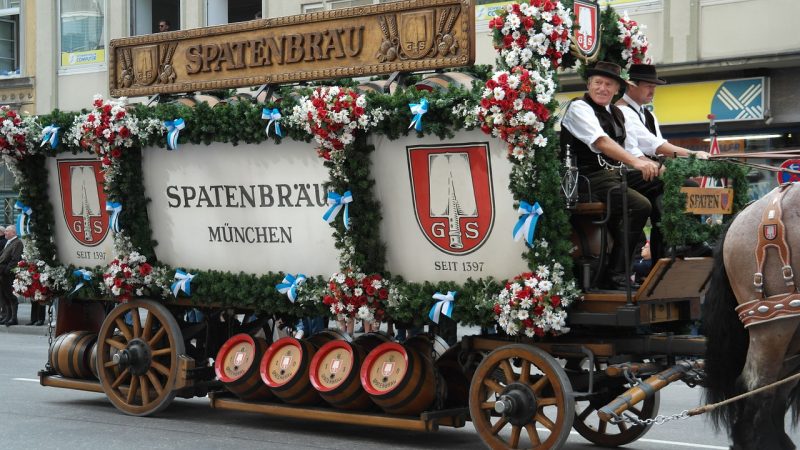 Oktoberfest has gathered international recognition and status and is celebrated in areas outside Germany too. Nevertheless we're listing the fun facts for you. Here are some interesting facts and traditions surrounding the world's most famous beer festival.
1. It's not a beer festival
Contrary to popular belief, Oktoberfest – or "Wiesn", to the locals – is not a beer festival, but the anniversary celebration of the wedding between Bavarian Crown Prince Ludwig and his wife, Princess Therese of Saxony-Hildburghausen. When they got married in 1810, the royals commemorated the event with a public party where not a single drop of the liquid gold was spilled!
It wasn't until 1819 that the horse races were replaced by beer vendors. Despite their initial prudence, you'll still find doting monarchists today raising a stein in honor of the old lord and lady who made it all possible.
2. Munich beer only
Oktoberfest is, above all, a celebration of Bavarian traditions, so the only beer you'll find during the festival is brewed within the city limits of Munich. Only beers that fit this criteria are considered Oktoberfest Beers.
3. No drinking without consent
You'd think that this behemoth of a beer celebration would be a bit of an anything goes affair, but you'd be wrong. Drinking at Oktoberfest can only commence when the master of ceremonies – the mayor of Munich – cracks open the first barrel of beer, proclaiming 'O' zapft is' ('It's tapped!').
4. It doesn't start in October
What's in a name? Not much, it seems, as this legendary autumn event doesn't even start in October! Over the years there's been a shift to an earlier, hopefully sunnier mid-September start, with the whole festival starting around the middle of September and finishing in early October, when 12 riflemen will sound a salute on the steps of the plainly named Bavaria Statue.
5. They've cancelled it 24 times
You can't stop beer pouring! In 200 years, Oktoberfest has only been cancelled 24 times. The causes were mostly due to the war and cholera epidemics.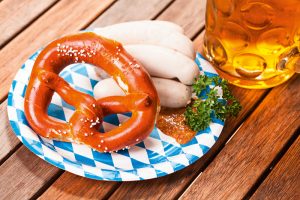 6. Beer prices start at €9.70 / £8 / $11
It's the price for one liter of beer. Not for those looking for a low budget festival.
Tip: Beer can be bought in the tents from 10 am to 10:30 pm on weekdays, and from 9 am to 10:30 pm during the weekend.
7. The beer is specially brewed for Oktoberfest and it's extra strong
One mug of beer here is equivalent to 8 shots of Schnapps. They're specially brewed for the festival and they have at least 6% alcohol.
8. There are 14 large beer hall tents
The most famous one is Schottenhamel because it's where the mayor taps the first keg and the biggest one is Hofbräu-Festhalle which seats almost 11,000 people.
9. There's a wine tent
Besides 15 different types wine there's also champagne and sparkling wine in the Weinzelt – wine tent.
10. The lost and found office is a proverbial treasure chest
Naturally for such a huge event, the Oktoberfest Lost and Found office is stuffed every year with thousands of abandoned goods, including passports, wallets, mobile phones, bags and rucksacks, and cameras – there also happen some more peculiar finds, such as wedding rings, hearing-aids, sets of false teeth, and even Segways.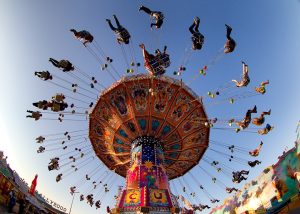 11. It's a kid-friendly zone
Over recent years, organizers for the festival have tried to steer away from the image of the world's most popular watering hole to a more family-friendly extravaganza. The carnival aspect has always been a big deal at Oktoberfest, but now it's bigger than ever, with a Ferris wheel, roller coasters, games and traditional Bavarian parades open to people of all ages, shapes and varying degrees of drunkenness.
12. Despite the international appeal, it's still a surprisingly local affair
Only 19% of the visitors aren't from Germany.
13. Einstein worked there
Albert Einstein, once worked as an electrician and helped to set up one of the beer tents in 1896.
14. Oktoberfest has its very own post office
They send around 130,000 postcards and gifts every year.