Some last-minute recipes of Easter bunny-shaped cakes and cookies
Easter is not all about hard-boiled eggs. You cannot make it with egg salads only! Let's honor Easter rabbit – the one who hides Easter eggs – by putting him on the festive table.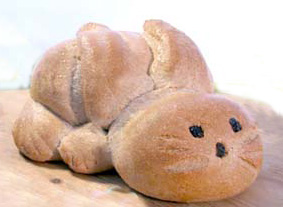 Easter Bunny
Ingredients:
1 kg flour
1 tsp salt
160 g soft butter
600 ml room-warm milk
1 tbsp sugar
40 g yeast
24 hazel-nuts or raisins
2 yolks for coating
Cooking:
Dissolve yeast in the warm milk, add some sugar, and leave the dough until bubbles appear on its surface. Put the rest of the ingredients into a big bowl, pour the milk&yeast mixture in, and mix well till the dough is smooth (~10 min). Put the bowl in a warm place, and let it stay there till its volume at least doubles. At this point the dough requires intensive kneading. After that, let it rest for about 20 min.

Knead the dough again, and cut it into 12 equal parts. Form the Easter Bunnies: separate the dough part into 3 pieces, and adjust them to each other as a head, body and tail. Form two ears on top of the head. Press the nuts or raisins onto the head as the rabbit's eyes. Put the bunnies onto a greased and floured cook sheet. Coat with the yolk, let rest for 30 min, and bake in the preheated oven for about 25-30 min.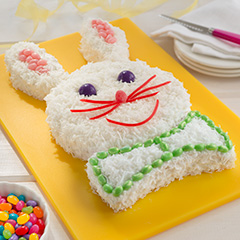 Bunny Cake
Ingredients:
2 cups all-purpose flour
1/2 cup shortening
1 1/2 cup sugar
1 cup milk
3 1/2 tsp baking powder
1 1/4 tsp vanilla
1 tsp salt
3 eggs
Frosting:
1 3-ounce package cream cheese, softened
a pinch of salt
1 tbsp milk
2 1/2 cups confectioners' sugar
1 tsp vanilla
Cooking:
Preheat the oven to 350 degrees F (180 degrees C). Grease and flour the cake pans (rub bottom of pan with butter or shortening, then sprinkle flour in the pan; tap the pan until flour spreads and covers the bottom). Sift the flour, sugar, baking powder, and salt into the electric mixer bowl. Add the shortening, milk, vanilla, and eggs. Mix on low speed for one minute. Scrape the sides of the bowl, then turn mixer to high speed. Beat for 3 minutes. Pour into pans and bake for 30 to 35 minutes, or until a wooden pick inserted in the cake center comes out clean (not sticky!). Cool in pans for 10 minutes, then turn cake layers onto a wire rack (you might need help with this step).
Make frosting:
Place the cream cheese, milk, vanilla, and salt in the electric mixer bowl. Mix on medium speed until well blended. Gradually add sugar, beating at medium to high speed until the frosting is smooth and will spread easily. If necessary, add more milk. Cut the cooled cake and arrange as shown in the drawing. One layer is left intact, and the other is cut to form the bunny's ears and bow tie. Spread the frosting between the head, ear, and bow tie pieces, then over top and sides. Add jelly beans for the bunny's eyes, strips of licorice for whiskers. You could also cover the rabbit with coconut for a very special Easter dessert!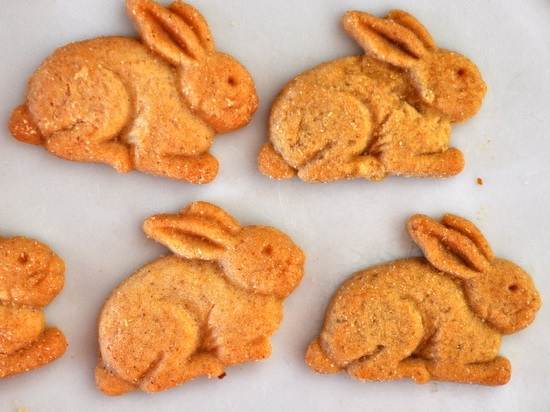 Easter Bunny Cookies
Ingredients:
3 cups flour
2 tsp baking soda
1 1/2 tsp ground ginger
1/2 tsp ground cinnamon
1/2 tsp ground cloves
1/4 tsp salt
1/2 cup solid vegetable shortening
1/2 cup sugar
1 egg
1/2 cup molasses
1 1/2 tsp cider vinegar
Cooking:
Sift together flour, baking soda, ginger, cinnamon, cloves and salt onto waxed paper. Beat together shortening, sugar and the egg in a large bowl with electric mixer until fluffy, for about 3 minutes. Beat in the molasses and cider vinegar. Stir in flour mixture until blended and smooth. Gather dough into ball; wrap and chill for several hours in the fridge. Preheat oven to 375 degrees F (180 degrees C). Divide dough in half. Roll out half of the dough with lightly floured surface to 1/8-inch thickness. Keep remainder of dough refrigerated while working with first half. To use a bunny pattern, draw a pattern onto a piece of cardboard. Make sure ears are attached to the head. Cut out pattern. Place pattern on dough and trace with a toothpick. Cut out cookies. Place them 1 inch apart on lightly greased baking sheets. Re-roll scraps, using up all the dough. Repeat with remaining dough. Bake in the preheated oven for 5-7 minutes or until firm. Transfer to wire rack to cool completely.
Store in airtight container between sheets of waxed paper for up to 2 weeks.
Related articles:
Easter Eggs: Traditions and Recipes
Easter Feast
9 ways to celebrate Easter like a German