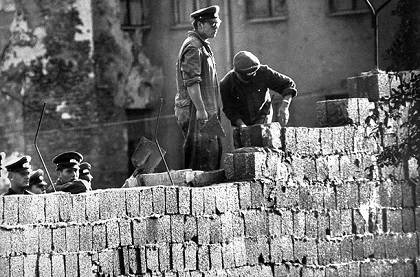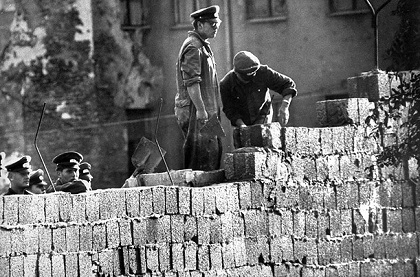 Besides its increasing economic difficulties, by the end of the 1950s the GDR encountered another problem that began to threaten its existence: large numbers of people were leaving East Germany for the West. Nearly half of those who fled the GDR were under twenty-five years of age. Although crossing the border between the two German states had become dangerous after new security measures were introduced in the early 1950s and severe penalties for the crime of "flight from the republic" (Republikflucht) were introduced by GDR authorities in 1957, a relatively safe escape route remained via West Berlin, which could be reached from East Berlin using the city's public transportation network. Once in West Berlin, refugees were registered and then transported to the FRG by air.
Alarmed by the continuous population drain, the East German Politburo ordered the erection of a wall along the border between West Berlin and East Berlin. On Sunday morning, August 13, 1961, workers began building a three-meter-high concrete wall along the border of the Soviet sector of the city. Within a few hours, public transportation lines were cut, and West Berlin was sealed off from East Germany. Chancellor Adenauer and West Berlin's governing mayor, Willy Brandt, sought to calm the outraged West Berliners. The Western Allies did not react with force because they were unwilling to endanger world peace. Up to that date, nearly 3.5 million had left the GDR for West Germany. After the building of the wall, the stream of refugees decreased to a mere trickle.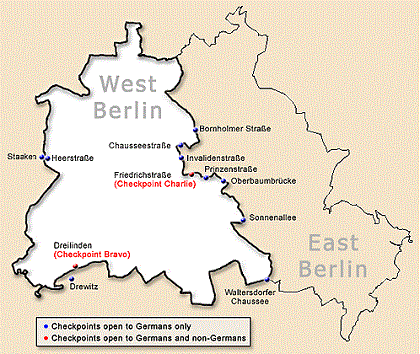 Despite the construction of the Berlin Wall, many East Germans still tried to escape. Several hundred of those attempting to leave the GDR were killed; others were captured, perhaps after being wounded by automatic guns or mines along the border, and sentenced to long prison terms. With the sealing off of East Berlin, the East German regime had solved the refugee situation.
In 1989, a series of radical political changes occurred in the Eastern Bloc, associated with the liberalization of the Eastern Bloc's authoritarian systems and the erosion of political power in the pro-Soviet governments in nearby Poland and Hungary. After several weeks of civil unrest, the East German government announced on 9 November 1989 that all GDR citizens could visit West Germany and West Berlin. Crowds of East Germans crossed and climbed onto the wall, joined by West Germans on the other side in a celebratory atmosphere. Over the next few weeks, a euphoric public and souvenir hunters chipped away parts of the wall; the governments later used industrial equipment to remove most of the rest. The physical Wall itself was primarily destroyed in 1990. The fall of the Berlin Wall paved the way for German reunification, which was formally concluded on 3 October 1990.




Related articles:
The Ulbricht Era, 1949-71
Consolidation of the New State
Planned Economy in GDR
The Warsaw Pact and the National People's Army
The "Socialist State of the German Nation"