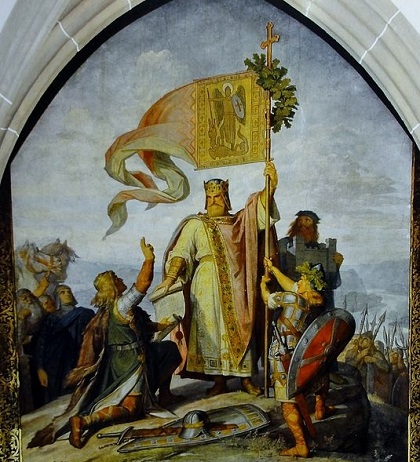 Because the dukes of the East Frankish Kingdom had wearied of being ruled by a foreign king, they elected a German to serve as their king once the Carolingian line expired. The election of Conrad I (r. 911-18), Duke of Franconia, as the first German king has been marked by some historians as the beginning of German history.
Conrad's successor, Henry I (r. 919-36), Duke of Saxony, was powerful enough to designate his son Otto I (r. 936-73) as his successor. Otto was so able a ruler that he came to be known as Otto the Great. He overpowered other territorial dukes who rebelled against his rule and reversed the particularist trend for a time. But he failed to establish the principle of hereditary succession, and the German dukes continued to elect one of their number as king. But through military successes and alliances with the church, which had extensive properties and military forces of its own, Otto expanded the crown lands, thus laying the foundation of monarchical power. Henry, Otto, and the later Saxon kings also encouraged eastward expansion and colonization, thereby extending German rule to parts of the Slavic territories of Poland and Bohemia. The Magyars' westward expansion was halted by Otto in 955 at the Battle of Lechfeld in southern Germany.
In 962 Otto, who had also gained control of the Middle Kingdom, was formally crowned king of the Romans. The possessor of this title would, in time, be known as the Holy Roman Emperor. The coronation came to be seen as the founding of the Holy Roman Empire, an institution that lasted until 1806 and profoundly influenced the course of German history. The coronation of Otto was a moment of glory for the German monarchy, but its long-term consequences were not beneficial because as German kings sought to exercise the offices of the empire they became involved in Italian affairs, often to such an extent that they neglected the governing of Germany.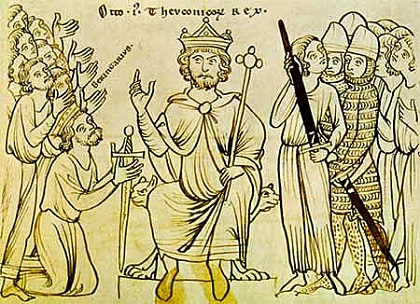 Because German kings were so often in Italy, the German nobility became stronger. In addition, the presence of German kings in Italy as emperors soon caused them to come into conflict with the papacy, which did not hesitate to seek allies in Italy or Germany to limit imperial power. A last problem was that the succession to the German throne was often uncertain or was hotly contested because it was not inheritable, but could only be attained through election by the German dukes.
This circumstance made the formation of an orderly or stable central government nearly impossible. In the opinion of some historians, Otto's triumph in Rome in 962 ultimately was disastrous for Germany because it delayed German unification by centuries.
Related articles:
– The Merovingian Dynasty, ca. 500-751
– The Carolingian Dynasty, 752-911
– The Salian Dynasty, 1024-1125
– The Hohenstaufen Dynasty, 1138-1254
– The Empire under the Early Habsburgs