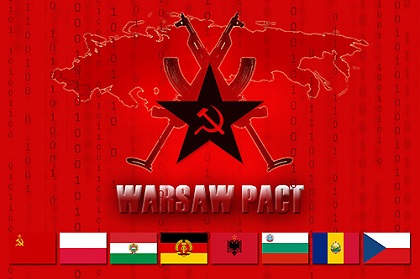 The Soviet Union and seven of its European satellites sign a treaty establishing the Warsaw Pact, a mutual defense organization that put the Soviets in command of the armed forces of the member states.
The Warsaw Pact, so named because the treaty was signed in Warsaw, included the Soviet Union, Albania, Poland, Romania, Hungary, East Germany, Czechoslovakia, and Bulgaria as members. The treaty called on the member states to come to the defense of any member attacked by an outside force and it set up a unified military command under Marshal Ivan S. Konev of the Soviet Union. The introduction to the treaty establishing the Warsaw Pact indicated the reason for its existence. This revolved around "Western Germany, which is being remilitarized, and her inclusion in the North Atlantic bloc, which increases the danger of a new war and creates a threat to the national security of peace-loving states." This passage referred to the decision by the United States and the other members of the North Atlantic Treaty Organization (NATO) on May 9, 1955 to make West Germany a member of NATO and allow that nation to remilitarize. The Soviets obviously saw this as a direct threat and responded with the Warsaw Pact.
The Warsaw Pact remained intact until 1991. Albania was expelled in 1962 because, believing that Russian leader Nikita Khrushchev was deviating too much from strict Marxist orthodoxy, the country turned to communist China for aid and trade. In 1990, East Germany left the Pact and reunited with West Germany; the reunified Germany then became a member of NATO. The rise of non-communist governments in other eastern bloc nations, such as Poland and Czechoslovakia, throughout 1990 and 1991 marked an effective end of the power of the Warsaw Pact. In March 1991, the military alliance component of the pact was dissolved and in July 1991, the last meeting of the political consultative body took place.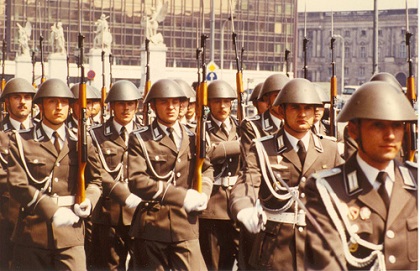 On March 1, 1956, the National People's Army (Nationale Volksarmee–NVA) was officially created by transferring the existing paramilitary units of the People's Police to the NVA. The new army was officially under the leadership of the SED and under the direction of the newly created Ministry for National Defense. Initially, the NVA was to be staffed by volunteers only, but in 1962, when recruitment presented increasing difficulties for the SED and its support organizations, conscription was introduced. Before the construction of the Berlin Wall, conscription had been seen as impossible to enforce.
As early as the 1950s, the NVA became the most effective and best-equipped fighting force in the Warsaw Pact aside from the Soviet army. By the early 1980s, the NVA had an active strength of 167,000, of which approximately 60,000 were professional soldiers; there were approximately 3 million reservists. Most weapons were of Soviet origin.




Related articles:
The Ulbricht Era, 1949-71
Consolidation of the New State
Planned Economy in GDR
The Berlin Wall
The "Socialist State of the German Nation"