In June 1944, American, British, and Canadian forces invaded France, driving the Germans back and liberating Paris by August. A German counteroffensive in the Ardennes began in late December was beaten back after heavy fighting in what became known as the Battle of the Bulge. Soviet troops, meanwhile, advanced from the east. Western forces reached the Rhine River in March 1945; simultaneously, Soviet armies overran most of Czechoslovakia and pressed on toward Berlin. Although faced with certain defeat, Hitler insisted that every German city, every village, and "every square meter" be defended or left behind as "scorched earth." The Western Allies and the Soviet forces made their first contact, in Saxony, on April 27. Three days later, Hitler committed suicide in a Berlin bunker.
Berlin fell to the Soviet forces on May 2; on May 7, the Third Reich surrendered unconditionally.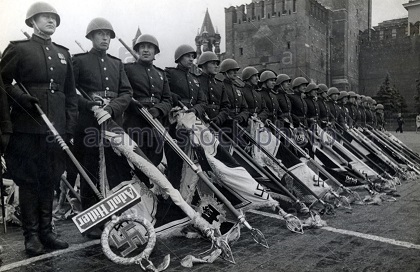 News of the imminent surrender broke in the West on 8 May, and celebrations erupted throughout Europe. In the US, Americans awoke to the news and declared 8 May V-E Day. As the Soviet Union was to the east of Germany it was 9 May Moscow Time when the German military surrender became effective, which is why Russia and many other European countries east of Germany commemorate Victory Day on 9 May.
It is estimated that about 55 million people died in the European theater during World War II. About 8 million of these dead were German.
The members of the provisional government were arrested on May 23 and subsequently found guilty of war crimes at Nuremberg.
Related articles:
The Third Reich: Consolidation of Power
The Third Reich Foreign Policy
The Outbreak of World War II
Total Mobilization, Resistance, and the Holocaust in Germany