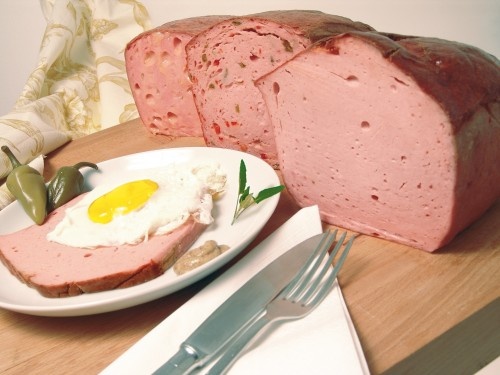 Literally translated, Leberkäse means "liver cheese" in German, even though in Bavaria it does not contain any liver or cheese at all. Leberkäse is a special sausage meat and is very popular in the South of Germany, Bavaria.
It is said that the meatloaf was invented in 1776 by the cook of Charles Theodore, Elector of Bavaria, although this story has been heavily contested. It is baked in the oven like a loaf until there is a brown crust. It's best warm as a sandwich.
Ingredients:
400 g lean beef
400 g pork
200 g bacon (with rind removed)
250 ml iced water
1 tsp salt
1 tsp freshly ground white pepper
1 medium onion
1 dessert spoon marjoram
Butter to grease the tin
Directions:
All meat must be well cooled before preparation begins. Cut meat into chunks and mince on a fine setting.
Mix together both meats and add salt, pepper and the iced water until smooth. Mince the bacon on a medium setting and mix with the meat.
Peel and grate the onion and add to the mixture together with the marjoram. Place in the fridge to cool. Put the mixture into a greased loaf tin.
Smooth the surface and, using the blade of a knife, make a diamond-shaped pattern across the top (about 5 mm deep). Bake in the center of a preheated oven (180°C) for about an hour (fan oven: approx. 160°C, gas mark 2 – 2.5).