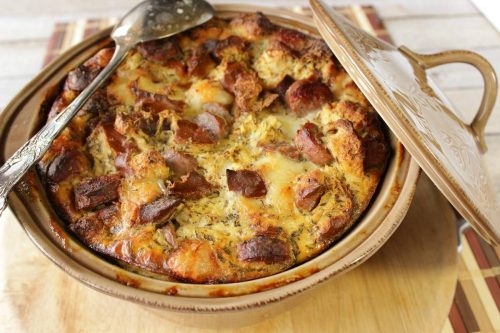 Hearty, meaty chunks of German bratwurst are simmered in beer and caraway before being combined with pieces of soft, flavorful pretzel rolls. Next, they're mixed with tangy sauerkraut, stone ground mustard, and lots and lots of Swiss cheese before being smothered in an egg, milk and mustard mixture and then baked to a delicious golden brown.
Ingredients:
500 g bratwurst
350 ml beer
1 teaspoon caraway seeds
6 soft pretzel rolls (hot dog or hamburger)
1½ cups sauerkraut (drained)
8 eggs
2 cups milk
¼ cup stone ground mustard
2 teaspoons salt
1 teaspoon pepper
2 teaspoons thyme leaves
3 cups cubed Swiss Cheese (or whatever cheese you prefer)
Preparation:
Preheat oven to 190 degrees C.
Use a paring knife or fork to poke several holes into each bratwurst.
Add the beer and caraway seeds to a large skillet.
Add the bratwurst to the skillet and simmer for 15 minutes.
Remove the bratwurst to a cutting board and allow to cool.
Reserve the beer and the caraway seeds from the skillet. Set aside to cool.
Tear the pretzel rolls into bite-sized pieces and place them in a large bowl.
Add the drained sauerkraut to the pretzel bowl.
Once cool, chop the bratwurst into 2 cm pieces.
Add the chopped brats to the pretzel bowl, along with the reserved beer from the skillet.
Stir well to combine.
In a large bowl, whisk together the eggs, milk, mustard, salt and pepper.
Pour the egg mixture over the brat and pretzel mixture.
Add the cubed cheese and thyme leaves into the bowl and stir very well to combine.
Spoon the bratwurst and pretzel mixture evenly into the oiled casserole dish.
Cover and bake in a preheated oven for 60-70 minutes.
Remove the cover and continue baking for an additional 45 minutes, or until the center is set and when a skewer inserted in the center comes out clean.




Photo via www.kudoskitchenbyrenee.com.