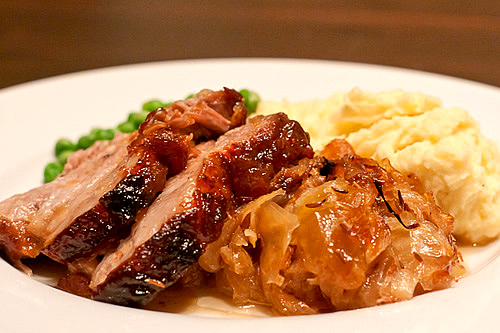 Ingredients:
1.2 – 1.5 kg pork shoulder roast
800 g sauerkraut, well drained
1 onion, sliced
1 golden delicious apple, peeled cored and sliced
1 Asian pear, peeled, cored and sliced (or swap in 2 more apples)
2 tbsp brown sugar
2 tsps caraway seeds
2 tbsp dijon mustard
2/3 cup apricot or currant jelly (or a mix of leftover jams, ideally no sweet berries)
1/3 cup apple butter (or 1/2 cup apple sauce)
1/2 cup white wine or sparkling apple cider
1 cup chicken broth (or water, or kraut juice if you just can't get enough of it)
Directions:
Preheat oven to 450 degrees F (230 degrees C).
Generously season your pork roast with salt and pepper.  Set aside on the counter for about 30 minutes to take some of the chill off it.
In a large skillet, saute the onions over medium-high heat.  When the onions start to soften, add in the Asian pear and apple slices and sprinkle over brown sugar and a big pinch of salt.  Reduce heat to medium and cook until lightly caramelized all over.
In a medium bowl, whisk together the mustard, jam, and apple butter.
In a large dutch oven (or a tall sided roasting pan), combine the sauteed onion mixture with the sauerkraut.  Make sure the bottom of the pan is completely covered and heap the rest of the mixture along the outside to create a nest.  Sprinkle the outside rim with caraway seeds, then nestle the pork roast into the center.  Spread on the jam mixture, dotting some around the kraut.  Pour in the wine or sparkling cider and place it uncovered into the hot oven for 30 minutes.
After 30 minutes the pork should have a nice caramelized crust.
Reduce heat to 325 degrees, add in the broth just to keep the bottom of the pan from getting too dry.  Place the cover on the pan, or seal off the top with a double layer of aluminum foil and return to the oven for 2-3 hours, until the pork is tender and pulls apart easily.
Allow the pork to rest for 15 minutes before slicing into 1/2 inch thick pieces.  This is a very fatty cut of pork and despite the long cooking time it will not all render out.  You'll have to eat around some of this excess fat, but this is what makes the meat so succulent and tender.  Serve on top of the sauerkraut with mashed potatoes and peas on the side.