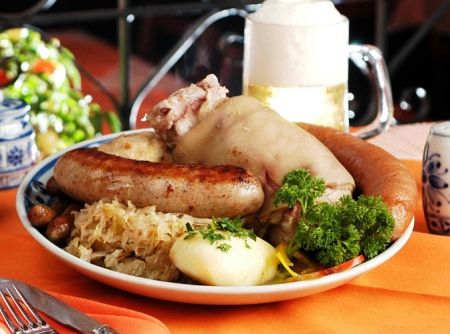 This is a feast for a crowd of friends. Prepare the sauerkraut (recipe follows) and a variety of sausages and meats. You may grill or fry the sausages or you may wish to cook some or all of the meats and sausages in the sauerkraut.
Ingredients:
Smoked pork chops
Bratwurst
Bauernwurst
Knackwurst
Wieners
Nürnberger Bratwurst
Blood pudding
Strips of Slab Bacon
Slab Bacon (diced and sautéed for garnish)
Directions:
Once the meats have cooked, arrange on a platter over Sauerkraut (recipe below) and serve with potato dumplings or bread dumplings.
Use the satueed bacon to garnish the potatoes and the platter.
Use parsley to garnish the platter before serving.
Sauerkraut
(serves about 12-15)
Dice one slab of bacon and sauté in a large skillet until the bacon is somewhat crispy.
Remove the bacon at set aside for later, but leave the drippings in the pan.
Add one or two large diced onion(s) to the pan drippings and sauté until the onion is translucent.
In a large pot add the entire contents of two cans of your favorite German Sauerkraut (other brands will work as well).
Pour the onions and bacon drippings into the pot with the sauerkraut.
Sprinkle liberally with black pepper.
Add about 1/2 cup water.
Cook over low heat for at least one hour*.
Check often to make certain that there is enough liquid so the sauerkraut won't scorch.
Before serving add some or all the bacon bits to the sauerkraut as garnish.
*If you wish you may also add other possible sauerkraut additions (each is optional). When cooked with the sauerkraut, they each add a distinctive flavor: juniper berries (up to 10 berries), caraway seeds, bay leaf, apple sauce or finely diced sweet apple pieces