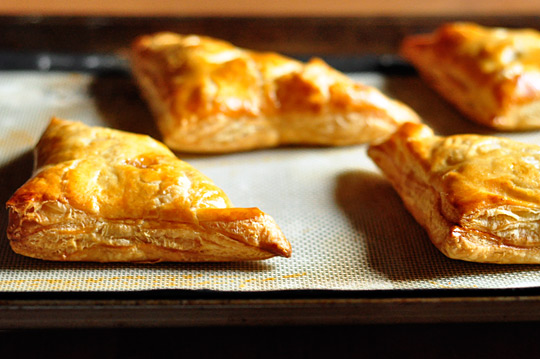 Phyllo pastry is very similar to German Strudel pastry and can be used in the same ways. These savory snacks can be prepared ahead and baked just before serving so they are warm and crisp.
Ingredients:
4 large sheets phyllo dough (10 x 12 inches)
2 3/4 ounces butter, melted
2 Bratwurst or Bockwurst sausages, grilled and chopped
10 oz Sauerkraut, drained and rinsed
2 3/4 ounces Bavarian smoked cheese, cut in small cubes
Cooking:
Cut the phyllo sheets lengthwise into three. Keep them covered under a sheet of cling film as you work so they won't dry out.
Lay a strip along a board. Brush lightly with melted butter. Put a heaped teaspoon of Sauerkraut at one corner end. Press some chopped sausage on top, then 3 to 4 cheese cubes.
Fold over the filling wrapped in the phyllo on the diagonal, so it is completely enclosed in a triangle. Then flip over again, on the diagonal, and again and again until you get to the end of the phyllo strip and have a neat triangular turnover.
Place on a flat baking sheet. Repeat with the remaining ingredients until you have 12 turnovers. Brush the tops and sides with the remaining butter.
When ready to bake, preheat the oven to 400 degrees F (200 degrees C). Bake for 12 to 15 minutes until golden brown and crisp. Serve warm.