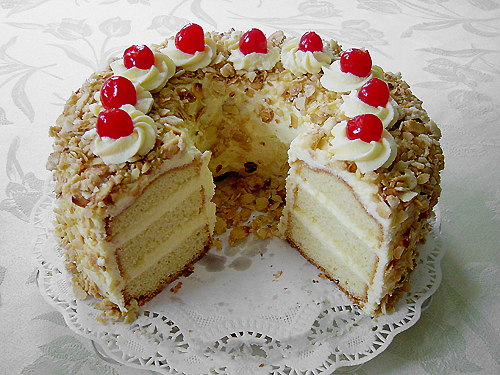 The Frankfurter Kranz is a cake specialty of Frankfurt, Germany. Preparation starts with the baking of a firm sponge cake in a ring shaped baking tin. The cake is then sliced horizontally to divide it into two or three rings, and thick layers of buttercream icing are placed between the rings, usually with a layer of red jam (typically strawberry, blackcurrant or cherry jam). The outside of the cake is then thickly coated with more buttercream and topped with caramel-covered brittle nuts, called Krokant, toasted almond flakes and/or ground hazelnuts. Krokant is signature to this dish.
Ingredients:
For the cake
220 g butter
280 g sugar
6 eggs
1 pinch salt
grated rind from one lemon
2 tablespoons rum
340 g flour
1 tablespoon baking powder
110 g cornstarch
For the filling
1 package vanilla pudding
280 g butter
110 g confectioners' sugar
2 tablespoons rum
100 g Krokant (nut brittle) or other crunchy decorations
Directions:
For the cake:
Beat the butter until creamy and add the sugar, eggs, salt, lemon peel and rum bit by bit.
Fold the flour, baking powder and cornstarch into the mixture and mix well.
Put the batter into a greased wreath-shaped form and bake at 350 degrees F (190 C) for 1 hour. Allow to cool on a rack.
For the filling:
Prepare one package of vanilla pudding using a little less liquid than stated on the package. Beat together the butter and the confectioner's sugar, add the cooled vanilla pudding and the rum, spoonful by spoonful, and beat until blended.
Cut the cake in half lengthwise (horizontally) and fill with half the butter cream. Use the rest of the butter cream to decorate the top and sides of the cake.
Sprinkle the cake all over with Krokant (use nut brittle or any other crunchy ice cream topping as a substitute) and decorate with cream rosettes and cherries.