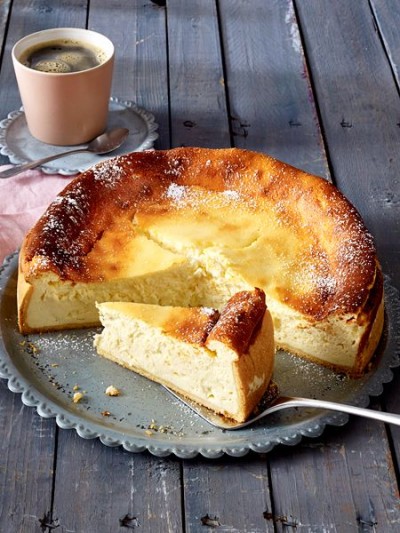 This German cheesecake is a bit lighter than its American cousin. The filling is made with low-fat quark instead of cream cheese and egg foam is folded into the filling to give it a slightly fluffy consistency. Lemon and vanilla give the filling a fresh flavor.
Ingredients:
Crust
250 g all-purpose flour
125 g butter
pinch of salt
30 g sugar
2 egg yolks
2-3 tbsp water
Filling
750 g quark (regular, not non-fat), see note for a substitution
60 g melted unsalted butter
125 g sugar
4 egg yolks
4 egg whites
1 tbsp vanilla extract
zest and juice of 1 lemon
pinch of salt
Preparation:
In a large bowl, combine flour, sugar and salt, then cut in the cold butter.
Add egg yolks and water. Then knead with your hands just until the dough is smooth.
Wrap in plastic foil and place in the refrigerator for at least an hour.
Preheat oven to 350°F / 180°C.
Grease a 10 in / 25 cm spring form with butter.
Roll out the dough, then press it into the bottom and the sides of the spring form.
In a mixing bowl (or large food processor) combine quark, sugar, egg yolks, lemon zest, lemon juice and salt. Beat until well blended then mix in the melted butter.
Beat the egg whites to stiff peaks.
Carefully fold the egg foam into the quark mixture.
Pour mixture into the spring form.
Bake in the preheated oven for 50-60 minutes (or until done). The top should be lightly browned and the filling should be set.
Turn off oven, open door and let cool for another 15-20 minutes.
Remove form from oven, run a knife around the edge and open the spring form.
Transfer cake to a plate or platter. Let cool well before serving.
Note: A good substitution for the quark is low-fat cottage cheese, just place it in a food processor, add a bit of milk and process until very smooth.