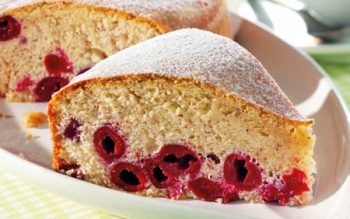 This German cherry cake recipe is called Kirschenmichel or Kirschenplotzer (literally translated as "cherry Michael" or "fallen cherries"). There are several different versions of it in Palatinate, mostly using leftover rolls that are soaked in milk. Kirschenplotzer tastes best fresh baked and still warm. Serve with whipped cream or/and vanilla ice cream. Enjoy!
Ingredients:
4 stale rolls or 6 slices stale bread
1 cup warm milk
3 eggs, separated
4 Tbsp granulated sugar
2 tsp cinnamon (optional)
700 g pitted sour cherries, fresh or frozen, drained
a pinch of salt
2 Tbsp butter
1 – 2 Tbsp powdered sugar
Preparation:
Preheat oven to 200°C. Grease a casserole dish (about 23 cm x 30 cm) with butter.
Slice or cube rolls (bread). Put into bowl and pour milk over. Stir gently and let sit about 10 minutes.
In a large bowl, mix together the egg yolks, sugar, and cinnamon (if using). Gently stir in milk-soaked buns (bread) and well drained cherries.
In a separate bowl, whip egg whites and salt until stiff.
Gently fold egg whites into bread mixture.
Pour into greased casserole dish and smooth top. Dot with butter.
Bake about 40 minutes, until top is nicely browned. Let cool.
Just before serving, put powdered sugar into a sieve, and holding it over the bread pudding, tap sieve to dust the sugar over the top.
Tip:
The best bread to use is an artisan type, French or Italian loaf. Don't use a regular sliced sandwich bread. It will just go mushy.